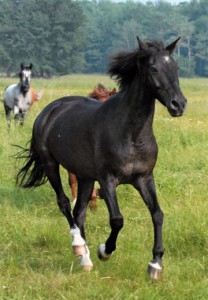 I fell in love with horses when I was 5 years old. My parents finally gave in to my unrelenting pestering about riding lessons when I was 10, and I think they were hoping it was going to be one of those pastimes that I eventually grew bored of and outgrew. Who knew I was embarking on a 20-year love affair? I've never owned a horse in my life (unfortunately) but I've always dreamt of doing so. I've even tossed around the idea of adopting a mustang from the "Wild West."
I learned yesterday that Portland Magazine sponsors a mustang that was corralled in the West. Publisher Colin Sargent admitted that he isn't as "horse crazy" as I am, but he has spent some time in the saddle.  One of the many things I didn't know about Colin is that he has an interest in horses.
Meet Reno Blue, the plucky 13-hand (roughly 4-foot-tall) mustang from Ever After Mustang Rescue in Biddeford.
Reno arrived in Maine in 1983 as a "little horse from out West" that rescue director Mona Jerome gentled and trained.  He has eventually become a permanent resident and evolved into the rescue's Ambassador. The rescue group aims to place horses in forever homes, not send them to a home and then have the animal move 25 times in a lifetime.
Unfortunately,  the forever home for this little horse was just not coming up; an adult is too large to ride him, and a child would eventually outgrow him. But, Reno's small size made him the perfect size to travel with and far less intimidating than the average Mustang that stands anywhere from 15- to 16-hands high (there are four inches to a hand). His beautiful blue roan coat color is popular among Mustangs, and rescuer Mona says that everything about him was perfect to be an ambassador for the breed.
So far in 2010, Reno has traveled to the Beacon Street Festival in Biddeford and given pony rides at no cost. He has traveled to Camp Sunshine in Casco to the children with life-threatening illnesses.  He participated in the 2010 Chalk Walk in Biddeford, and at Ever After Mustang Rescue's Mustangs in Motion event, a free seminar at the rescue that promotes the breed and informs the public of how useful a mustang really is.  Reno does a lot of pony rides in the course of a year, and he enjoys it.
With Portland Magazine's monthly contribution and support, Reno's hay and grain is paid for, which ultimately takes some of the stress off the rescue and allows Ever After Mustang Rescue to rescue other horses.