July/August 2004
The Wicked Witch of the West found comfort downeast.
By Ian Crouch and Amy Louise Barnett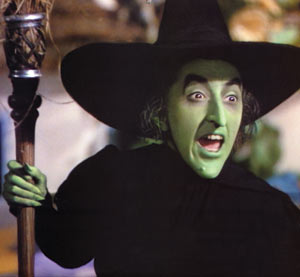 Start at Maine State Music Theatre in Brunswick. Continue north on Route 1 to Edgecomb and head south on Route 27 past Boothbay on your way to Southport Island. At the very tip of the island, there's a sign for Southport Town Landing. A rowboat is waiting to take you across Cape Harbor to tiny Cape Island. There may not be skywriting above it, saying Surrender, Dorothy. But that's how you get to the witch's house.
"It's not as if ruby slippers were scattered on the floor," Hamilton Meserve, 69, says, "but here my mom was, the Wicked Witch in The Wizard of Oz."
Actress Margaret Hamilton (1911-1985) was also a den mother, a Sunday school teacher, and founder of a nursery school in California that still exists.
"But it's that 12 minutes on film that people can't forget," Meserve, a retired Citibank executive, says. "The green makeup she wore had copper in it, really dangerous. Remember when my mother first meets Dorothy and she disappears in a puff of smoke? She was supposed to go through a trap door behind the smoke, but they turned the fire on a little too soon and she got burned by the copper in her makeup."
Hamilton spent six weeks swathed in bandages over her face and arms. "I remember being led into her room and seeing her re-apply the bandages, in great pain. Otherwise, I was protected from the whole trauma of the film, on-screen or off," Meserve says.
Apparently, mom liked it that way. "I was nine before I was allowed to view the whole movie."
But where does Maine fit in?
"Around 1950, my mother moved from Los Angeles to New York, excited by many live television parts and commercial offers. [Fans were delighted by her star turns on Playhouse 90 and as a pitchwoman for Maxwell House coffee.] In 1961, she was performing summer stock in Brunswick when she heard the Coast Guard was selling lighthouses." Inspired, "she started driving all along the coast," looking for fabulous views.
She found one. Margaret Hamilton's island looks across the harbor to schooners, private docks, and the Newagen Inn, backstaged by dark spruce trees. The drama continues with gulls, osprey, and seals. On the other side of her island, she indeed found her lighthouse, "The Cuckolds," the only object between Cape Island and Portugal.
"There's no electricity out here, no phone," Meserve says. "I was in graduate school when she called me and asked if I wanted to go in on it. Did I ever! She came up with half the down payment, and I came up with the other half. When I was working overseas with the bank, this was the only stateside house my wife and I had. Invariably we'd find Mother out here [between appearances on The Alcoa Hour, The Phil Silvers Show, Studio One, Gunsmoke, The Patty Duke Show, The Addams Family, Car 54, Where Are You?, Laramie, The Partridge Family, Lou Grant, As The World Turns et al.] using the old kerosene lamps," arriving in Maine in the spring and sometimes staying deep into the fall for the big storms.
Entering through the front door, visitors find a modern kitchen to the right and a large living room with a loft, cathedral ceiling, and post-and-beam charm.
"My mother was pretty handy with a broom," Meserve deadpans and holds one up beside the large fieldstone fireplace. "People will probably think this one is from the movie."
A solarium glows off the kitchen; a generous porch off the back affords views of lobster buoys and pine-studded neighboring islands.
In all there are three bedrooms and a loft, with one of the bedrooms downstairs, "my mother's," Meserve says. "It's funny, but over the years [and in spite of other strong film appearances, including My Little Chickadee, The Invisible Woman, State of the Union, The Red Pony, Wabash Avenue, and Angel In My Pocket], visitors insisted upon seeing memorabilia from Oz here. When she was 71, the year I returned from Europe, I came back to Maine to find a local newspaper had asked her to dress up as the witch for a short performance for children, green makeup and all. From her earliest days, my grandmother had encouraged my mother to teach kindergarten and first grade, so it must have meant a lot to her [especially since she'd already scared the pants off generations of children since 1939].
"Since then, we've begun to collect memorabilia from the movie here," he says. "How she would have loved the enthusiasm surrounding [the novel and Tony-winning Broadway play] Wicked," which tells the backstory of Hamilton's character as a work of revisionist history.
So will folks up here ever forget about the friendly witch who fell in love with the Maine coast?
"When monkeys fly," Meserve says, stopping just short of summing up his family's idylls here with an enthusiastic "wicked good"!