The newly restored landmark is sure to be a favorite of early risers…and nighthawks, too.
reviewed by Diane Hudson – Dec. 08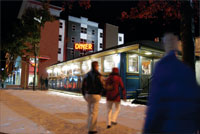 Walking into the Miss Portland Diner catches you off guard if you're expecting nostalgia alone from this 59-year-old lady. Our first impression was a spanking new 48-seat addition to the classic Worcester dining car–quelle nouveauté. Waiting for a table, we were asked if we'd mind sitting at the counter. Of course not, but where was the counter?
Whooshed up a small flight of stairs, we entered a time-capsule paradise. Snuggling onto our low bar stools at the gorgeous original marble counter, we were immediately greeted by fellow diners marveling, "They've done a great job with this!"
Indeed they have. Owner Tom Manning, who hails from Munjoy Hill (his father still lives in the family home on Morning Street), is returning to Maine from a long stint in New Jersey as Director of Administration at Newsweek Magazine.
"I have three young children (6, 4, and 2) and am tired of spending hours and hours commuting. My wife (Stefanie Hirsch Manning) has fallen in love with Portland, too, and will eventually be leaving her position as Associate Publisher of Marketing at O, The Oprah Magazine."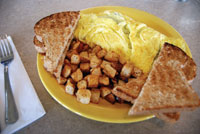 The whole atmosphere at Miss Portland seems as transforming and energetic as the medical and office high-rises that have spurted up next door.
But back to bacon, how good's the food here? This is as good diner fare as we have ever enjoyed–not 'gourmet,' but the real deal. Heavenly, meaty corned beef hash ($8.29) mingled sensuously with my perfectly poached eggs and crisp tasty homefries. My partner's Southern style sausage gravy with biscuit ($7.49) was rich, creamy, and flavorful, the homemade biscuit light and just right.
We'll be back in a heartbeat for the Benedict encounter, including the Classic with Canadian bacon ($8.49); Maine crabmeat or lobster ($10.99-$13.99); vegetable, with zucchini, yellow squash, mushroom, red pepper, asparagus ($10.99); or Florentine, with sautéed spinach, and grilled tomato ($8.99); all served with hollandaise. From the griddle, dive into pancakes: buttermilk, blueberry, banana, chocolate chip, banana walnut, or strawberry. Or how about Belgian waffles with blueberries, strawberries, yogurt, or maybe cinnamon raisin French toast?
For breakfast sandwiches, tear into the Southwest burrito ($6.49) with eggs, mushroom, onion, green pepper, black olive, and cheddar, and the vegetable burrito ($6.79). Or sail into the "Miss Portland Diner": English muffin, egg, and American cheese ($2.79); add ham, bacon, Canadian bacon, or sausage ($1.29).
All this and parking, too. Welcome home, Tom! We're glad you're here.
Miss Portland Diner, 138 Marginal Way, Portland. 210-6673 Breakfast 6-3 p.m. weekdays; 9-3 Saturdays and Sundays; dinner menu/hours coming soon.