reviewed by Diane Hudson feb/march 2009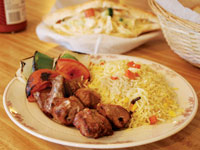 Desperately seeking recession-friendly places, we happened upon the Star East Café, in the heart of Woodford's Corner.
Pleasant and affable as is his cuisine, owner Saad Albeshir has just purchased and renovated this building, designing a warm inviting space. An electrician by trade in his native Iraq, Albeshir, who has other real estate interests, always wanted to own and run a place like this. Noting that "there are no other Arabic restaurants in Maine," he is excited to bring the unique tastes to an increasing, and loyal, clientele.
A big reason for his success, besides the flavorful food, is Albeshir's whole-hearted commitment to promoting a healthy way of eating that is affordable for all.
Imagine, for example, a generous serving of lamb kabob consisting of seven or eight good-sized chunks of juicy meat, grilled onion, green pepper, and two halves of nicely grilled tomato for $8.89. Ditto for the dolmades, rolled grape leaves stuffed with super basmati rice, raisins, beef or vegetables. Nine of these sweet, moist delicacies surround a mound of velvety hummus with a pungent olive in the center. Pretty, and pleasing, also only $8.89!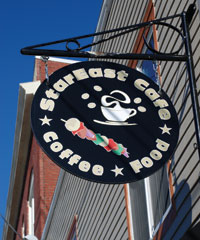 For us, the shining star in StarEast's sparkling firmament is the flat bread. A cross between a large inflated pita and an Indian poori, but with more substance and less oil than the poori, the bread alone will keep you coming back for more. Get here early, however. Our try for a to-go was a no-go; we'd just been served the last.
All of the soups are served with this amazing Arabic bread, hot from the oven. We loved the tasty chicken and vegetable soup, with lots of chicken and a good broth ($5.99), and can't wait to try the lamb stew ($5.99) and the okra soup ($4.99).
We ordered koba, fresh ground beef and onion rolled in a potato, rice, and seasoning mixture thats generally served sandwich-style, inside Arabic bread with salad on top.
As no alcohol is served, and is not allowed in the café, we treated ourselves to tea with cardamom. Coffee by Design coffees, hot lemonade, and numerous juices are available.
Live music and even occasional dancing add energy here to complete this refreshing and affordable experience of the Middle East. For updates on the entertainment, visit www.stareastsaad.com