reviewed by Diane Hudson April 2009
Bella Notte
The zing's the thing: At Paciarino, a Milanese couple adds unforgettable sauce to the Old Port mix.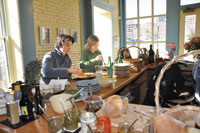 Milan in Maine? It's the dream of Fabiana de Savino and Enrico Barbiero, the husband and wife chef/owners of Paciarino, the new Italian bistro that's drawing crowds on 468 Fore Street in the Old Port.
"We ran two restaurants in Milan, but fell in love with Maine after seeing a television show about it as a tourist attraction," says de Savino. "We'd been to California, Florida, Nevada, and Rhode Island, but Maine looked far more intriguing, even though we didn't know a soul here." Attracted by a cleaner environment, slower pace, ocean setting, and healthy living for their six-year old, "we arrived in Portland in August and opened our doors here in January."
Regarding the eatery's theme, "My grandmother meant everything to me," de Savino says. "She lived with us for a time, and I remember waking in the early morning hours to the scent of bolognese permeating the house. She'd get up at 5 a.m. and start right in, cooking all kinds of delicacies for our enjoyment." Hence the name Paciarino, which means a favorite dish that your grandmother prepares especially for you.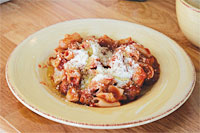 Here you'll find a dazzling assortment of hand-crafted pastas (one or several of which will likely become your personal paciarino), from maccheroni to tortiglioni and ravioli, all of which can be purchased from their inviting shelves and freezers.
You will be served in a warm and inviting sun-drenched space with yellows and blues–totally Mediterranean in feel. And you will be served as if you matter, as if you were the only diner here.
Almost immediately upon settling in at our table, our server arrived with a complementary plate of varied dipping sauces and chunks of exceptionally good crusty bread. As these sauces can be purchased here, it makes all manner of sense to get a taste from the outset. Mouthwateringly good, the sauces include marinated garlic in oil, hot spicy paté, garlic bruschetta, caper paté, garlic paté, wild fennel paté, and an unbelievably rich, tasty pesto.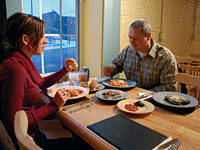 As backgrounds for our sauce selections, we picked lasagna and ravioli. Not the usual piled-up-high pasta upon pasta, our lasagna with bolognese ($8.50) was instead a thinner version powerfully packed with layers of intense flavor.
Ditto for the pesto ravioli with butter and sage ($8.50). Equally attractive were the ravioli ricotta & spinach with walnut sauce ($8.50), ravioli with goat cheese, and tortiglione with bolognese ($7.25). And all made, just for us, fresh every day.
Shelves accompanying the tasty patés also offer a selection of at least 30 Italian "wines we have selected because these are what we enjoy drinking in Italy," Barbiero says.
Stock up for future pleasure. Very handy. Very Italian. Belissimo!
paciarino, 468 Fore St., Portland. Lunch 11:30 to 2:30; dinner hours TBA in "mid April or early May." 774-3500.