Miyake
October 2009
Chichi Sushi
Adorable Food Factory Miyake blends exciting flavors with acclaim on the Travel Channel and in Bon Appetit.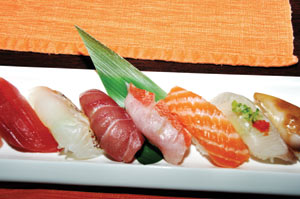 Diminutive as a bento box on an alley corner between Katahdin Restaurant and the Inn at Park Spring, Food Factory Miyake knows exactly how to hit the spot, in this case the gateway to Portland's West End.
While the presentation here is nothing less than spectacular, Miyake isn't just a splash of lacquer sans valet parking–Bon Appetit has described its omakase style of Japanese cuisine as half the price and better than its counterparts in New York.
Bottom feeder to the end, I attacked the floor of Miyake's chef's specialty tasting menu, a three-course culinary expedition for $38, with five courses $50 and seven $75. Omakase (loosely translated "entrust" or "protect") courses are personally designed by chef-owner Masa Miyake, accompanied by a bewitching assortment of the finest sushi you are likely ever to encounter, and beautifully presented. The first course, three gorgeous pieces of Alaskan sockeye salmon nestled over a smooth lemon mayo sauce and topped with delightful fresh scallion and capers, was a hint of the treats to come. Next was a single very large scallop, browned to a crispy outside, sprinkled with bright red roe, and set to bask on top of tasty miso sauce. And then, an amazing plate of eight pieces of Edo-Mae nigiri, consisting of the finest salmon, yellow tail, fluke, red snapper, shrimp, scallop, and mackerel, all of it perfect, but the mackerel almost astounding with its subtlety and texture. Placed lovingly atop terrific rice, each piece warmed by a small dab of hand-made wasabi tucked inside, just enough. The accompanying pickled white ginger is also a cut-above the typical pinkish variety. Though there's soy sauce at the ready, we found the flavors so big and so fully realized that there wasn't a single item that seemed to warrant its use.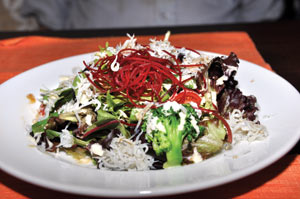 Another terrific sharing was the Wakame Jako ($8), an incredibly fresh mixture of greens topped with crisp, beet-red strips of wakame seaweed and succulent baby sardines. These fish are so tiny as to barely  announce themselves to the visual senses, but the flavor tells all. Another appealing salad is Tuna Tataki, seared and served sashimi style on top of mixed greens with miso dressing ($11).
My partner, bowled over by the menu and its array of choices, settled on a special of the day, Kamo Tataki, grilled duck breast topped with Japanese yuzu citrus pepper, scallion truffle oil, and duck sauce ($15). Slightly hot in spice, these tender slices disappeared almost before I was allowed a tiny, but memorable, taste.
Because it's bring your own wine here, saki sales have gone through the roof at neighboring West End Deli.
This place is downright heavenly.
Food Factory Miyake, 129 Spring Street, Portland. Monday to Thursday, 5:30 to 10 p.m., Friday and Saturday, 5:30 to 10:30,
Sunday, closed. 871-9170.