November 2009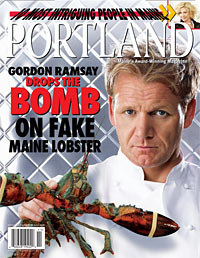 Features
30 Gilding the Lily
The voluptuous interiors of the Victoria Mansion are transformed for holiday tours from November 27 through January 3.
From Staff & Wire Reports
38 10 Most Intriguing People in Maine
James Craig, Patricia Quinn, Gordon Ramsay, Mary Pols, Emmett Beliveau, Deborah Rice, Carolyn Gage, Arthur Fournier, Roxanne Quimby & Felicia Knight.
By Donna Stuart, Colin S. Sargent  & Laura Paine
57 By World of Mouth
Delicious lagniappe to make your holidays an international celebration.
73 Marley & ME
Bob Marley on a fitness regimen every comedian should follow, his disastrous Mohamed Atta joke, and visitors from New York. By Jesse Stenbak
81 Holidayland
Taste the season with our spectacular holiday gift & attractions guide!
Departments
14 From the Editor
16 Letters
18 Goings On
26 Imperatifs
27 Chowder
59 Cuiscene
63 Talking Walls
64 Performance
66 Market Watch
68 Restaurant Review
68 Dining Guide
76 2009 Guide to Wellness
99 House of the Month
103 New England
Homes & Living
109 Fiction
111 Flash