February/March 2010
On the eve of

Anita Shreve

's April 9 opening-night stop in Portland to kick off the

Maine Festival of the Book

, the Oprah Book Club novelist speaks candidly about body surfing in Biddeford Pool and the myth  of…the classic Mainer!

Interview by Colin W. Sargent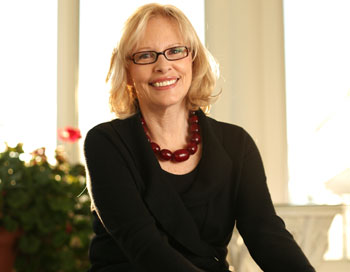 One of your zillion internet fans says that while she admires the interior consciousness in Body Surfing, she especially loves how real your story is. That you really feel right on the beach, in that magic house, because your details about the seashore have "sandy feet."
It's true of any place you write about. The only way to make a reader trust you is get the details right before you both take that extraordinary leap. If you get the feel of what it's like to walk in the dark on the sand, or get a kitchen or a garden right…then, when a character does something kind of awful, the reader is willing to go with you.
Some reviews have described your fictional beach house, which appears in four of your novels inspired in some measure by Maine, as a character in itself. Is it based on your place in Biddeford Pool?
It's based on a house I saw when taking a walk, and I keep changing it. I've made it bigger, added more dormers, moved it to New Hampshire, done what I wanted with it.
You've been praised for the evocative swimming scenes in Body Surfing. Seriously? What about that icy Labrador Current here? Do you actually get out there in the summers and body surf?
I do. I used to go out there in a bathing suit; now, I have a wetsuit. I love body surfing. It's one of the few things in life I'm actually good at. I've done it since I was a kid. I remember my father teaching us, telling us exactly what to do. It was what you did when you didn't have other things to play with in the water.
Like Fortune's Rocks, Body Surfing suggests multiple levels of meaning. Where were you when you came up with that title?
I don't remember where I was, but I think it's been with me all my life. I knew that she would be a body surfer and that the brothers would be. I saw that metaphorically it would be a very good title.
When you come to Portland on April 9 to kick off the opening night of the Maine Festival of the Book with Tess Gerritsen, what will you be reading from, and why will it be especially appropriate for a Maine audience?
You know, I'm thinking I'll read from Body Surfing or Sea Glass, because they both take place right on the beach. If I'm in Maine, I'll read a Maine theme, even though my latest novel takes place in Africa.
There are so many different Maines to write about. Biddeford Pool and Biddeford seem like two vastly different places so close together. As one of the Biddeford Pool elite, can you tell us about your coming to understand the Franco-American cultural inheritance in Biddeford that enriches Fortune's Rocks?
I did a lot of research in Fortune's Rocks. I read a lot of books about the mill towns, about the history of Biddeford-Saco, and found that the thing that is most telling is the photographs. You can see the light in the photo, what kind of day the people were having, so that you'll be [creating something emotionally authentic]. If the reader doesn't trust you, he feels kind of lost.
Fortune's Rocks covers Beacon Hill in Boston so well that readers must have wondered, is Anita Shreve related to the Shreve in the legendary jewelry store Shreve, Crump & Low?
No, I'm not, but I live not far from Beacon Hill right now. I used to live in Boston many years ago and knew a little bit about the history. It's also in Body Surfing, because that's where she goes to the hotel.
Tell us about Biddeford Pool in the winter, when all the sidewalks are rolled up. Can you discover more about yourself and your characters when you're up here then?
In a way, yes. A number of scenes in the books do take place off season, and for those who don't live there and visit in the winter there's kind of something wonderful and beautiful about it. Even in a snowstorm, there's something magical about it. On the other hand, my neighbors have told me that by March 1, you have to go [take a short vacation from Maine] or you'd shoot yourself. Everyone in New England, I think, is ready to shoot himself by March 1.
Booth Tarkington once had an edition of his work published called the Seawood Edition, named for his summer house in Kennebunkport. What would your Maine-flavored collection be called, and what four novels would be in it?
They'd be the ones in the house: Fortune's Rocks, Sea Glass, The Pilot's Wife, Body Surfing. You'd call it [the collection] Fortune's Rocks.
Do Mainers recognize you at grocery stores, bookstores, in restaurants?
It's a thrill when someone recognizes me and I'm not actually on the stage. It's a particular thrill when someone from Maine with an accent says something nice about my work. It's funny–some of the best senses of humor I've ever encountered are from Mainers. They pride themselves on being down to earth. They're no nonsense and full of terrific dry wit–authentic. They don't mind giving you the business at all, and it's usually pretty amusing. But they don't suffer fools.
A foolish question, then. Since you're an Oprah Book Club-endorsed author, and since Oprah Winfrey has come to Maine to antique (she likes Shaker), have you ever met up with her here?
No. I didn't know she came here.
But again, on Mainers, I don't have the authority to speak about Maine or Maine characters. It will take me a lot of  years to speak with any authority on anything in Maine, other than to say I believe the character of the 'Mainer' does not universally apply. I think there are a lot of people, a lot of angry people, a lot of people trapped in pretty bad poverty. There are at least two Maines, maybe three or four, and they're very distant…
I spent a lot of time in Sebago Lake as a kid–Naples, at the Lake Sebago camping ground. So if someone were trailing around, wondering what my memories of Maine are, there's one.
Gordon Ramsay recently spent some time surfing on the Maine coast. He had plenty of places to choose from, but he came here. Can you give us a sound-bite answer about what the extraordinary draw is here?
It's beauty within a framework of restraint. It's not the lovely white sand beach, pale-green shallow out for a 100 feet. It's rugged. That word is used a lot, but it's right. It has a clarity, a purity.
Do you own a Kindle? What do you think the future is for musty, wonderful, tangible books?
No, I won't own a Kindle, but I think it's better than people give it credit for. There's no fighting the future. A whole generation in college now doesn't read books. Instead, it gets its information online. More people will get their books by electronic means in the future, but I will not see a universe in which there are no bookstores.
Since this is our Foodie Issue, tell us three favorite restaurants you love here.
Pier 77 and The Ramp underneath it, in Cape Porpoise. Grissini I like a lot. Fore Street.
You've told us that while writing, you sometimes find yourself craving a bacon sandwich that takes you back in time, and when you're in the grip of such a sensation, your characters have been known to get hungry, too. Can you tell us your sensual recipe for the bacon sandwiches you fall victim to during a writing binge?
Real simple. You go into the woods. Make a fire. Of course, this is in the old days. Two pieces of white bread. Toast them over the fire. You know what bread looks like when it's toasted in a fire? It's different than a toaster. Cook the bacon in a frying pan. Put the bacon between the two toasted pieces of bread, and you eat it. It's the best thing on earth.