Sonny's
Sonny's Delights
Where O'Naturals and F. Parker Reidy's thrived, Local 188's new sister bistro now makes a happy noise in the Old Port.
By Diane Hudson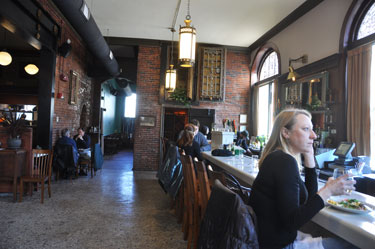 Think of Sonny's as an F. Parker Reidy's for the 21st century: seafood-aware (you should see the lobster mariscada there, though the Cuban steaks are great, too); bar on the square (corner of Exchange and Middle Streets, with views of Tommy's Park); and divertido, with a Caribbean/South American twist.
Not to mention, this place hits the spot. If you believe in the Elephant Walk (yes, the 1954 Elizabeth Taylor flick) theory of restaurant evolution, where crowds of diners can't help but resume their well beaten footpaths to the doors of vanished watering holes gone by, you know this former site of O'Naturals and F. Parker Reidy's (the presumptive hangout for lawyers in love in the 1980s) is not only right at the heart of the matter but perhaps the matter itself.
Add to that our admiration for restaurateur Jay Villani's other venture, Local 188 on Longfellow Square, and the cute story of this new bistro being named for his son, and you have a lot on the line here, including my dining companion and myself on a recent evening, sailing into inviting  appetizers such as the fritters–black beans and Maine shrimp ($10)–and perfectly grilled tamarind-glazed pork ribs ($12).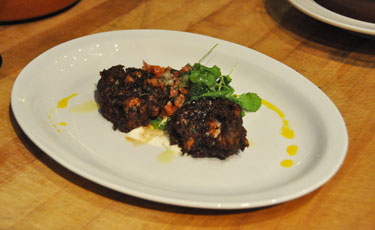 Both were incredibly tasty, not too heavily spiced, and substantial enough to cater to a light dinner appetite. Another mouth-watering tidbit here is the salt fish "stamp & go" ($11), a deliciously dark-fried, Jamaican street-food fish cake with its roots in New England–the salt cod that still invigorates Caribbean cuisine was originally shipped there from here in exchange for molasses, the basis for the rum trade.
We couldn't resist the Bahia-spiced Maine mussels, a bargain at $13. Served with terrific, lightly browned, crusty bread for tasty dipping, these succulent morsels were infused with the deep flavors of the broth hinting at coconut, coriander, tomatoes, pimentos, onions, peppers–very clean and satisfying.
The chili-roasted corn salad ($11) sports exceptionally fine, slim wedges of goat cheddar and an unusual assortment of greens that make you feel like you're eating out in your garden again. Try adding some grilled shrimp (these are the large ones) for a more substantial plate–delicious with a fine mango vinaigrette.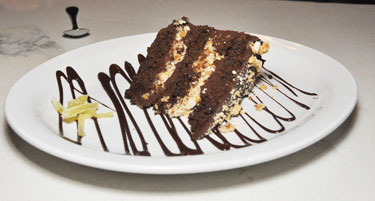 A view of neighboring diners gnawing voraciously on big chicken pieces inspired our next choice: guava-roasted, house-brined chicken ($18). You get a full half chicken served lovingly in its own cazuela and dripping with the most intricate flavors (we had to ask for a spoon so as not to be caught licking the bowl). Top this off with the accompanying traditional red beans and rice, and you are well into a deeply satisfying experience.
We also managed to share a dessert ($7) from a tantalizing menu, all hand-made, including flourless Majorcan almond cake served with vanilla crema inglese and fruit compote, a Sangria sorbet, and Italian-meringue-frosted lemon chiffon cake. The hazelnut-dacquoise-layered sour cream chocolate cake was rich, chocolatey, and not too sweet: good with our musky red wine, Terre Rouge 'Les Cotes' 2005 ($28). Sonny's, you're so true, we love you.