October 2010
A new venue sets the stage for a flawless, palate-pleasing performance.
Review by Diane Hudson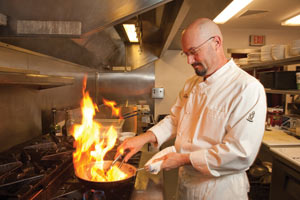 It's as snappy and spare as a David Mamet play, the playbill's the talk of the town, and the parking's fabulous. As you join the crowd walking in, the anticipation builds–now that Walter's has completed a celebrated relocation to 2 Portland Square, will food still take the leading role on this new stage?
Chef/owner Jeff Buerhaus and his wife and business partner, Cheryl, raise the curtain perfectly. Soft amber lighting and an expansive, sleek dining room with tall windows provide depth and understatement to the metrosensual decor. Now mixologist Steven Lovenguth's imagination lights the footlights with eyepoppers like Skyline (Eagle Rare bourbon, Luxardo maraschino, Vya sweet vermouth, cherries, $9) and Nutty Scotsman (Dewar's, Frangelico, crushed hazelnuts, $9) while we tack into a bottle of Rock Rabbit Shiraz ($27).
Crusty, spongy sourdough bread, baked in-house, whets our appetite for the all-the-way-to-thrilling creamy wild oyster stew ($8) with boar bacon, sweet potato, and saffron. Have you ever tasted something so good you close your eyes to savor it?
Up next, an Asian twist on the popular 10th-century Sicilian treat, arancini ($5). These golden balls of crumb-crusted, deep-fried rice take a surprising turn, with pronounced flavors of scallion and ginger.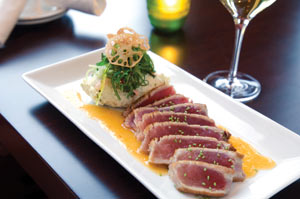 We swing back to the Mediterranean with a flawless Milano linguine ($14/21), tossed in tangy lemon butter with tender shrimp, spinach, artichokes, tear-drop tomatoes, feta, olives, and capers. The perfectly seared gnocchi fungi ($9/19) is also an audience-pleaser, with an earthy cream sauce jumping with chanterelles, pine nuts, and fresh parsley.
In a devious gesture, I offer my partner (contentedly making a large dent in his gnocchi) a teasing taste of my filet mignon ($24) smothered in a pool of gloriously pungent English Stilton fondue. Purple Peruvian chèvre mash and king oyster mushrooms, both in a rich veal demi-glace, play pitch-perfect supporting roles.
Dessert here is a dramatic closing act. Starry encores include blueberry Guinness cheesecake ($7), chocolate soufflé tourte with brûléed bananas and peanut butter gelato ($9), and raspberry chocolate bundt cake with champagne sorbet and pistachio cigarillo ($8).
You won't just love this grown-and-sexy Walter's. Consider this a standing ovation.
WALTER'S, 2 Portland Square, Portland
Lunch M-Sa 11:30 a.m.-2:30 p.m.; Dinner daily 5-9 p.m., weekends to 9:30 p.m.; Bar menu Su 5-10 p.m., M-Sa 2:30-11 p.m., F-Sa to midnight
871-9258, waltersportland.com