When Exactly Did We Become 
The "Other Portland"?
October 2010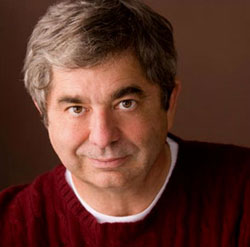 Standing in line at San Francisco Airport, I was asked by an attendant, "What is your destination, sir?"
"Portland," I said proudly.
"Oregon?" he asked.
"Maine!"
"Oh," he said. He waved me to the line marked "International Flights."
When I indignantly said, "Maine is part of the United States," he asked, "You mean we have an other Portland?"
True story, my fellow PWMers. And travel bloggers have surfaced with references to us as the "other Portland."
Editor Hal Amen of matadortrips.com justifies the atrocity:
Just to clarify–my wife is from Winterport (near Bangor), and we lived in Portland [Maine] in 2007-2008 and loved it. Every time we're passing through on the way to her parents' place, we make it a point to stop into Standard Baking and pick up morning buns and an olive loaf.
Regarding the title of my piece, "Green Guide to (the Other) Portland," I can think of three reasons why I went with that wording:
1. To anyone outside of New England, Portland, Maine, is the "other Portland." When I tell strangers, "I used to live in Portland," no one ever assumes Maine. Simply put, PDX is much bigger and makes it into the news more often…I've run into folks who didn't even know there were two! There's also a story my wife tells, how her father–from Winterport–called the national number for a hotel chain to book a room in "Portland." When they got down there, the hotel didn't have their reservation–the operator had made it for Portland, Oregon!
2. Matador had already published a "Green Guide to Portland," referring to PDX. The title didn't clarify which, but no one wrote in to say, "Man, I clicked on this expecting to read about Portland, Maine!" I found this a little funny, which prompted me to insert the tongue-in-cheek "(the Other)" into my title.
3. I'm an underdog guy. And Portland, Maine, currently feels like the underdog to Portland, Oregon, regardless of history. Which makes me love it all the more…
This from a writer with warm feelings toward us! At least our "otherness" has some cachet, Portland, Oregon, because every metropole lacking originality is copying your green "nowhereness" to the point where soon you won't have any more geographic identity than, say, Whole Foods.
So, Bizarro Portland, you can keep your promiscuous proximity to California, and you don't even have an ocean to call your own. Even if you've wrested Portland.com away from the former Blethen Maine Newspapers (marooning us with the happy-face MaineToday.com)–even if your Oregonian license plate with the evergreen trees vaguely resembles ours–you'll never take away our dignity. No one wears a black eye prettier than Portland, Maine.