LFK
The Write Stuff
By Diane Hudson
Prepare to sound your barbaric yawp of praise over the rooftops of Portland. This is LFK.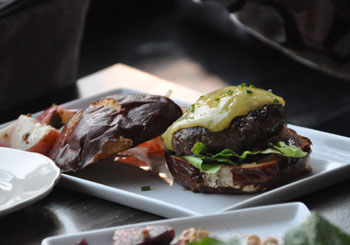 I feel like I'm in Paris," quips a friend joining us at one of LFK's long, dark tables.
I agree, taking in the Lost-Gen décor, complete with enthusiastic indoor crowds spilling outside to cafe tables, books, typewriters, mirrors, funky, comfy furniture, and quirky art. It could be The Hemingway Bar on Rue Cambon in Paris, but on the other side of show-stopping plate glass windows is Longfellow Square and the exquisite architecture adorning State Street. Then the searing realization: Has this block finally discovered it's the center of the universe? Thriving at the former location of Cunningham Books, "Longfellow Fellowship of the Knights" combines a page of the past with a contemporary setting.
Having seen the tiny, well lighted kitchen, we're surprised by the exceptional quality of the cuisine, starting with the cheese plate ($9). Three artisan cheeses, led by Morbier, arrive on a rough-hewn piece of Maine slate with toasted walnuts, crisp, sliced green apple, a Standard Bakery baguette, and whole-grain mustard.
The story warms as we continue with Cornish-inspired pastry ($9). My British companion, hooked from first bite, describes it as an "upscale version of the traditional English 'pasty.'" Fresh, local greens and subtle sherry vinaigrette enhance the flavors.
Fleshing out the plot are luscious lamb koftas ($12)–tender, moist meatballs on splendid house-made pita with tzatziki and couscous salad. It's as though a sweet friend from Morocco has walked through the door–stirring.
There's also a bacon-wrapped meatloaf ($12) with garlic-buttermilk mashed potatoes and onion mushroom gravy.
For drinks, partners Johnny Lomba and John Welliver have you covered, with Ballantine Ale ($3), Allagash Black ($5), Bull Jagger Big Claw Pilsner ($8), Cuvee Beatrice Prosecco ($6), martinis ($7.50), and one of my favorite South African reds, Wolftrap, at a bargain at $24 a bottle.
The dénouement is sweet, with the Rhubarb Dolly with Crème Fraîche and Cardamom Rosewater Panna Cotta ($6) vying for attention. A toss of the coin lands on Panna Cotta, a divinely smooth, creamy affair with strawberries flanked by a biscuit shaped into a miniature manuscript page and embossed "LFK" in typewriter font at the bottom.
Parisian, perhaps, but with Longfellow seated outside and Emily Dickinson vibrating within (see the poem inscribed on brass keys at the bar). Inviting texts in every nook add depth and volume; sounds register loud in happy cacophony, and we leave fully satisfied that LFK is decidedly Whitmanesque.
LFK, 188A State St., Portland
4 p.m. to close
899-3277, lfkportland.com