Eventide Oyster Company
Shuck & Thrive
Eventide Oyster Company ups the ante for the rest of the bed.
Review by Diane Hudson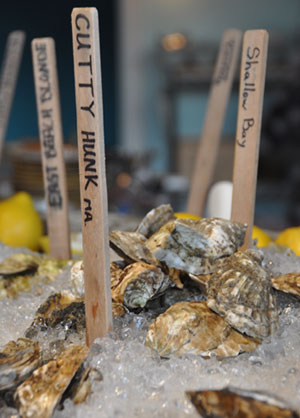 We talk of many things: shoes, ships, sealing wax, cabbages, and kings. But when at Eventide Oyster Company, oysters are the thing. That, and some of the best fried fish I've tasted since my college days in London.
Of course, the best way to start any dining excursion is with oysters (just ask Casanova). And since this delicacy greets you the moment you enter Eventide, chilling on ice inside a life-size boat of carved granite, each marked with a wooden stick bearing its name and origin, how can you not?
Deciding which to savor proves a daunting task. With excellent guidance we choose a dozen ($27; $15 per ½ dozen) from an attractive list featuring nine varieties from Maine and 10 "From Away."
Co-owner Arlin Smith says, "We only buy cold water oysters from the West Coast, New England, and Canada." He can even tell origins by scent. "The West Coast species have a cucumber, melon fragrance, whereas the East Coast has that briny ocean, deep sea allure."
We learn that Winter Point Selects from West Bath are the most popular and order three, along with three Gliddens from Damariscotta, two Shallow Bays from Newcastle, two Ayock Salts from Washington State, and two Blackberry Points from Prince Edward Island. Hands down, these are the best oysters we've had. Accoutrements (red wine mignonette, kimchee, and angelica ice) are fanciful and fine, but we find the oysters need no enhancement.
My local albacore tuna ($8), with ginger-scallion relish, sweet soy sauce marinade, and thinly sliced radish is mind-boggling good. The fact that Smith was front of the house, and co-owners Andrew Taylor and Michael Wiley were an intimate part of Rob Evans's kitchen at Hugo's for five years–before purchasing Hugo's and creating Eventide–is apparent in this elegant presentation.
Following a palate-pleasing fluke tartare ($7), I indulge in a Dirty Dirty Martini ($9)–a great hit combining gin with oyster juice and a splash of Tabasco. My partner enjoys a pint of Murphy's Irish Stout ($5).
The fried oyster bun ($7) is bursting with flavor and pretty to look at, but the showstopper is battered Gulf of Maine hake ($8). Do not miss this!
Changing each day are "Dinner Only" options. Tonight we are blessed to devour a whole-roasted Mediterranean branzino ($24). Similar to sea bass, this fish offers lots of tender white meat, few bones, and is exquisitely prepared with an herb stuffing, chewy wheat berries, and broccoli. A Celery Gimlet ($9) (celery juice, gin, Chartreuse, and lime) goes down quite well with this.
Raspberry pie ($7) and a bowlful of French Fried Toast ($6) with house-made cinnamon ice-cream do us in. Walrus, you can stop crying and saunter on in to Eventide. Your prey awaits. n
Eventide Oyster Company
86 Middle St., Portland
11 a.m.-Midnight, 774-8538