Zen Chinese Bistro
Zen & the Art of Far East Cuisine
Zen poet Li Bai described life as a "big dream," but at Portland's new Zen Chinese Bistro, the reality is delicious.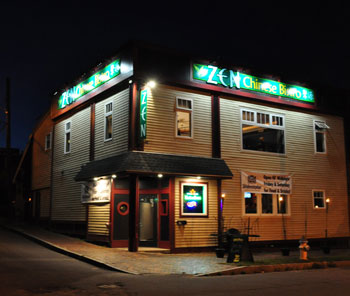 The service at Zen Chinese Bistro is the warmest, kindest, and most attentive I've encountered almost anywhere. Put that together with the high-end Chinese cuisine (invigorated by Japanese and Thai), snappy decor with beautiful Brazilian hardwood, sensational cocktails, good brews, and fabulous wines, and you've got a sure-fire winner at this legendary location on Pleasant Street (ghosts of restaurants past include District and The Tree).
For starters, we try the Avocado Salad ($8). Dressed in a delicious, creamy, mild ginger sauce, this attractive bowl of crunchy fresh greens and abundance of perfectly ripened avocado slices is exquisite.
Delicate pan-fried pork dumplings ($6), precisely cooked to retain flavor and moisture, pair well with the salad and are enhanced by a tasty garlic sauce that our server thoughtfully keeps replenishing. Ozeki Nigori Sake ($7) arrives in pretty, tall glasses and is a good match for the robust flavors.
Next up are big bowls of hearty Hot and Sour ($3) and Wonton ($4) soup. Both offer taste sensations a cut above the normal renditions.
Each of our entrées is happily served separately with extra plates so we can share.
Not typically a fan of Lo Mein, but realizing my companion has a hankering for it (he worked at a Chinese restaurant in his younger days and got a plate of it free every night), I tag along. The chicken version ($9) is subtle and much better than any I remember, and he's thrilled.
Jumbo Shrimp with Lobster Sauce ($15) makes me wonder how these folks can afford such generous servings, with at least a dozen huge, flavorful shrimps that almost seem like lobster tails!
But the Peking Duck ($25), plenty enough for a satisfying dinner for two, is what knocks us out. A half duck deftly sliced comes on a gorgeous platter with fresh moo shu pancakes, delicious plum sauce, sliced cucumbers, and scallions. Theatrically, one of the servers shows up at our table and carefully creates the wraps for us–a welcome touch!
For their final miracle, our buttery, savory ginger cheesecake ($7) is attractively served with just enough chocolate sauce, whipped cream and a maraschino cherry on the side–an elegant finish.
Zen Chinese Bistro
45 Danforth St., Portland
Su-Thur 11:30-10 p.m.
Fri & Sat, 11:30 a.m. , 775-6888