May 2013
Ciao, Enio! A trattoria power couple returns.
By Diane Hudson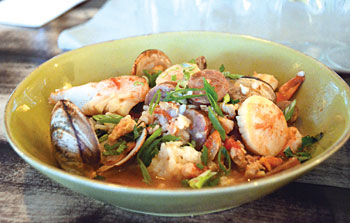 How many restaurants can fit onto Portland's peninsula? Rachel's Wood Grill was among the early birds to fly from the Old Port to Woodford Street before owners Bob and Laura Butler left Maine altogether.
They're back! Welcome to Enio's, a former bakery the Butlers have transformed, dazzlingly, to 36 seats and an Italian theme.
We start with one of the Jar offerings, chicken liver pate with balsamic glaze ($6). A delightful presentation, the spreadable goodness is easily–and quickly–scooped out of its pretty container, onto flavorful, lightly grilled bread. The tasty glaze makes it unique.
We ask Bob to suggest a bold Italian red, and he graciously offers a couple of tastes. Cantele Salice Salentino from Puglia ($25) is the perfect earthy accompaniment we'd hoped for.
Passing over Little Bites that include puff pastry calzoncini with a beef and taleggio cheese filling ($5), we move into Small Plates. Friends at a neighboring table (you are bound to see folks you know at this fine neighborhood haunt) convince us to give a calamari saute ($13) a try. We do, and you should, too. Sauteed to perfection and wonderfully not chewy, its flavors are resplendent with garlic, extra virgin olive oil, red and yellow pepper slices, scallions, red onions, and crunchy croutons.
We skip Bowls, although the seared scallops and lobster ravioli in a lobster bisque ($24) certainly beckons, moving on to Plates. For once we are not in a tussle over who gets what.
Beef tenderloin, two rounds of gorgeous meat seared just as my partner likes it–rare–is served with excellent hand-made beef ravioli, sauteed mushrooms, and a full-flavored gravy ($23). My half-rack of lamb ($20) is a revelation. Juicy, tender, still reddish pink while being nicely browned, the flavor of the meat could not be better. The side of mashed potato and parsnip is nothing short of genius as is the surrounding balsamic reduction.
After such a successful meal, missing dessert would be downright sinful. We share the custard tart with berries ($7.50). A winner yet again. Whipped-cream-topped custard sits on perfect pastry, covered in strawberries, blueberries and a jaunty sprig of fresh mint. Next time it will be the pear crumble topped with bourbon mascarpone.
Enio's Eatery, 347 Cottage Rd., South Portland.
Tues.-Sat. 4-9 p.m., closed Sun. & Mon. 799-0207.