Summerguide 2013 | view this story as a .pdf
This Wiscasset novelist really gets around.
Interview by Claire Z. Cramer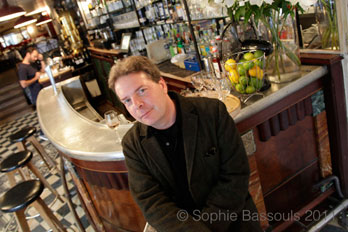 In his latest novel, Five Days (Simon & Schuster, $26.99), Douglas Kennedy places Laura, a radiographic technologist at Miles Memorial Hospital in Damariscotta, and Richard, a Bath insurance man, at the same Boston hotel for concurrent weekend trade conventions in their respective fields. Their worlds intersect, and their lives are, as they say, forever changed. Kennedy is the best-selling author of 10 novels, including The Woman in the Fifth; the film version (2011) starred Kristin Scott Thomas and Ethan Hawke. We caught up with him by phone with the sounds of a café in the background.
You're in Montreal?
My wife is Canadian; I'm back and forth to Canada a lot. We have a pied-à-terre here.
How long have you lived in Wiscasset?
Since 2007. I'd been living in Europe for years, and I finally realized I didn't really want to be a permanent expatriate, so I came back. As a child, I was sent to summer camp in Maine–an awful place in Otisfield. Years later I came back because I went to Bowdoin in the '70s, and that was so much better. I really like to move around a lot. But now Maine is my base.
Where did you live?
I still have pieds-à-terre in London, Paris, and Berlin. All of this came from the writing, incidentally. There's no family money there.
On page 94 of Five Days, Richard mentions that he's published a story in Portland Magazine. How do you know the magazine, and do you know Portland?
I know Portland Magazine because I've read it. That's how! And I love Portland. I think it's a great city. And I am not going to say a 'great little city.' I think it is a great city. When I'm in Maine, I probably go to Portland once a week. I like Longfellow Books. I like the coffee shops. I can write in them.
Richard Russo has said he likes to write in coffee shops, too.
I ran into Rick Russo the last time I was in Arabica! [An interruption ensues during which Kennedy can be heard speaking French.] Sorry, the waiter came over.
The book's ending is a complete surprise. It snatches away the reader's expectations for the characters.
Good. Everyone has the life they think they have to live. There are many ways people find to limit themselves. Let me first say there's no such thing as 'emotional truth,' but as a writer, it does have to be emotionally real.
Are you working on your next novel?
I'm already well into it.
So, let's see. You're sitting in a café in Montreal, where you have a home. You write in Wiscasset, and you have homes in  the capitals of Europe. Sounds like you've got it figured out.
Listen. Nobody has it all figured out!