Summerguide 2013
JP's is the toast of Rosemont.
By Diane Hudson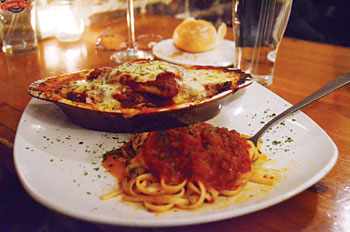 Seating 46, including six at the bar and 16 alfresco, JP's lights up a warm summer night with the intimate neighborhood Italian specialties that are mostly northern-Italian, but with a nod to chef John Paul Gagnon's own French heritage.
We begin with Caesar salad ($5.50/$8), crunchy green with delicious anchovies. Our Kenwood Cabernet Sauvignon is a steal at $22.
Another starter is a real showstopper. Four ricotta-stuffed ravioli, pan-fried and topped with braised short ribs and Gorgonzola, arrive swimming in a broth of piquant rib juice ($10). We find the texture of the pasta to be sturdy and the dish substantial.
We proceed to our main course, a tough decision given 10 attractive entrees on the regular menu and at least a dozen more on the nightly specials board. Diehard regulars assert that JP's rib-eye ($22) is spot on, so my choice is obvious.
The steak, thick and huge, has a perfectly char-grilled crust. The first, easy cut displays a bright red-pink center, evidencing the chef's attention to my specification of rare. Add to that grilled portabella mushrooms, Gorgonzola, red potato mash, grilled summer squash, zucchini, carrots, sweet red pepper, and crisp green beans. Heaven on earth.
My partner's chicken and eggplant parmigiana, with layers of gently fried chicken filet and eggplant slices baked with rich sauce and mozzarella, is a well-prepared casserole dish that comes with a side of pasta topped with tasty marinara and earns audible plaudits all around ($17).
Rigatoni Tuscany, eggplant rollatini (each $17), shrimp Gorgonzola ($21), and veal cordon bleu ($20) are among other enticing entrees that beckon for a return visit.
Given our rich repast, we must forgo tempting homemade desserts ($7 to $8) that include Key lime pie, lemon coconut cake, crème caramel bread pudding, Kahlua mud pie, and tiramisu.
Altogether, we enjoyed an evening of affordable food and beverage, with a bonus of lively interactions with fellow diners seated near us. JP, now I know why the neighbors are talking.
jp's bistro, 496 Woodford St.,  Tues.-Thurs., 4-9:30 p.m., Fri. & Sat., 4-10 p.m., 899-4224