September 2013
Art of the Meal
Review by Diane Hudson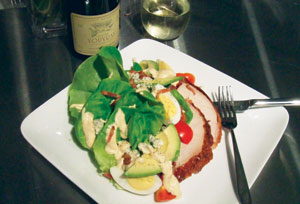 Try a sensuous stop at the museum cafe
Blockbuster art exhibits can make you hungry! The PMA Café, managed by Aurora Provisions, takes museum dining seriously. At first glance, you think…OK, sandwiches, salads. Think again.
Take the Studio Lunch ($12.95). Visually, it's a painter's palette of a plate. The seasonal soup is a velvety potato leek, garnished with colorful drops of Sriracha. An assortment of cheeses includes the aromatic, creamy Le Delice; tangy Great Hill Blue accented with a dab of honey; and a sharp Shelburne cheddar, all playing well within a Standard Baking baguette. House-pickled vegetables–tasty dilly beans, cauliflower with a hint of curry, and red peppers–are served on crisp greens along with mixed olives.
We continue our artful noshing with the meze plate ($9.95), savoring the complementing flavors of house-made olive tapenade, creamy hummus, fresh pita chips, veggies, grilled stuffed grape leaves, and baguette. The grape leaves are a major attraction here, filled with saffron rice, sundried tomatoes, feta, and walnuts. It's all a cut above your usual meze plate.
Oh, yes. There are sandwiches, of the kind you always think you'll make for yourself but never do. The imaginative Parisienne ($8.95) has smoked ham surrounded with ripened brie, just enough Dijon mustard, sliced cornichons, and peppery greens in a gorgeous baguette, with potato chips (or green salad for an additional $3.95).
Liquid refreshments include white wine, good brews, and cocktails such as the Cézanne–Cold River Vodka with Ram Island Lavender Lemonade ($10).
Deciding instead to devour the dessert case, we tear into the Genoa cake, rich chocolate layers oozing with chocolate raspberry filling and decadent buttercream topping ($3.95). Robust coffee ($1.85), roasted by Carpe Diem in North Berwick, finishes us off, refreshed and ready to take in more of the museum's never-ending delights. "Winslow Homer's Civil War" is on view from September 8 to December 7. Come feast your eyes.
Portland Museum of Art's PMA Café, 7 Congress Square.
Tues.- Thurs. & Sat. (Sun. & Mon. thru Columbus Day),
10 a.m.- 4 p.m; Fri. to 8 p.m. 775-6148, portlandmuseum.org.