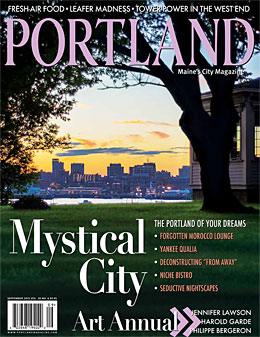 Features:
33 A Little Light Music
Artist Philippe Bergeron transforms urban nightscapes into light magic.
Interview by Robert Witkowski
39 Near East, Downeast
Remember when everyone wanted to let the genie out of the bottle?
By Colin W. Sargent
51 The Secret Sharer
Jennifer Lawson trades in her Bean boots for a paint brush.
Interview by Claire Z. Cramer
57 Singular Sensations
Not feelin' it? Time for a little Maine qualia.
By Colin W. Sargent
61 Strangers in a Strange Land
International produce is right at home in Portland's fresh, local farmers' market.
By Claire Z. Cramer
67 Avant Garde
At 90, painter Harold Garde is a dynamo.
Interview by Nancy Davidson
Departments
14 From the Editor
We get to the bottom of the tricky subject of antipodes.
By Colin W. Sargent
17 Letters
Joke about Thoreau–if you dare.
18 Imperatífs
Autumn brings a little bling and leaf-peeping from the sky.
20 Goings On
31 Chowder
59 The Maine Experience
75 Dining Guide
75 Restaurant Review
The PMA Café is a tasty oasis after a tour of the galleries.
77 House of the Month
151 Vaughan Street,West End
84 New England Homes & Living
93 Fiction
"Saturday Night Lights"
By Bruce Pratt
96 Flash