Boone's – A Room With a View
Review by Colin W. Sargent
Boone's in the Old Port continues to deliver the goods.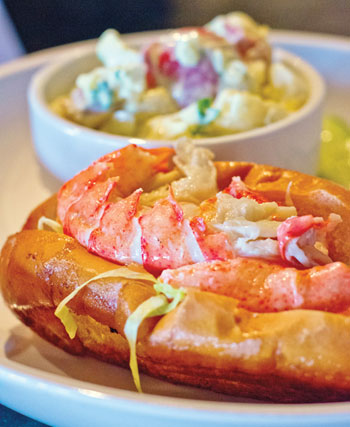 Boone's Restaurant opened in 1898, in the heart of Portland's waterfront. In its salad days, it was one of the most famous seafood bistros in the world–baked stuffed lobster was invented here. After a few gap years, it's just opened again, under the inspiration of chef/entrepreneur Harding Smith. It's a joy to experience the old place at full tilt.
Native Portlanders feel like plank owners here, so deeply is it embedded in local lore. My son had his first steamed clam here as a five-year-old; now he's 31. On the world scene, you hadn't arrived in Maine unless you went to Boone's. Ingrid Bergman, vibrant and recently divorced, came here in 1946 [See "Notorious in Cape Elizabeth," Summerguide 2011]. "So did Clark Gable and Marilyn Monroe," says Genie Boone, daughter of Gene Boone, who ran Boone's from the 1920s through the Sixties. "Not at the same time."

Our recent outing started with a miracle. Remember when the world had parking? We pulled into the waterfront parking lot–in full view of the outdoor tables, lobster boats, and the Casablanca cruise ship–slipped out of our car, and walked 25 feet to our restaurant.
The original Boone's is still the original Boone's. Thoughtfully, it's been discovered to the bones and opened up to reveal handsome distressed bricks, massive sanded beams, and a sweep of views from Harbor Fish to the Portland Custom House to the shipping in the harbor beyond, under the cry of gulls. Who knew a trendy modern restaurant was hiding under all that dilapidation? I love the new stainless-steel steampunk decor, complete with a flashy Boone's logo hammered into metal.
On the first floor (which longtime diners will remember), there's an open kitchen for theater, new hardwood floors, a tall curved banquette, and an enormous stone fireplace for romantic dining.
A scenic outdoor stairway (there's an indoor one, too) conducts you past al fresco tables hanging over the water to a second-floor gallery with more outdoor tables, soaring views of the city, and an indoor raw bar featuring fresh seafood from all over the world. Our checklist for orders includes Flying Point Oysters from Cousins River, Maine; Wild Dams from Damariscotta; Pemaquids from Hog Island; Little Islands; and Dodge Coves. But there are also Blue Points from Connecticut, Beausoleils ("medium, high salt, hints of champagne") from Shippagan, New Brunswick, and many others.
Lobster is steamed with seaweed here–keeping it real. This extra step for authenticity is well worth it; the fragrance, deepened by Harding Smith's trademark grill, is downeast perfume.
We start with Xanadus for cocktails, a pithy mixture of grapefruit and gravitas (actually gin) which absolutely hits the spot. Then we share an appetizer of Oysters on Piggyback, delicious grilled oysters on a mouth-watering pork spread above a cracker, the result almost a Franco-American taste–think oceanic cretons (the potted pork spread so
popular it carries the nickname "French-Canadian peanut butter").
For entrees, we order the swordfish (fragrantly grilled, deep and moist, close-your-eyes satisfying) with wilted greens, clarified by an effervescent Portuguese vinho verde, available by the glass. Then we share the branzino, an entire Mediterranean sea bass cooked and presented on a cast-iron skillet.
It's amazing that a lost institution like Boone's can be found like this. The happy noise and fun and pounding music assures you you've found the mystical place you've been looking for. Come on in and crack one open. We rate this place five seagulls.
Boone's Fish House and Oyster Room
86 Commercial St. on Custom House Wharf
Daily 11 a.m to 11p.m.,  774-5725, boonesfishhouse.com