October 2013 | view this story as a .pdf
A fool may be born every minute, but it takes four years to become a jester auguste.
By Frances Killea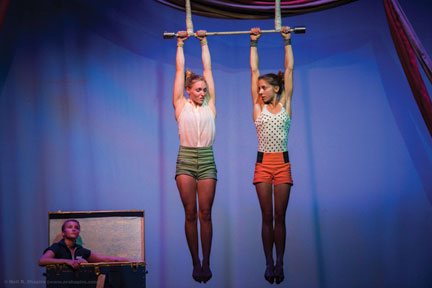 The Circus Conservatory of America will glide into Thompson's Point in fall 2015, offering a BFA in circus studies. Think Cirque du Soleil, not Barnum & Bailey.
"We're modeling our curriculum after other conservatories in the U.S., such as Juilliard and Tisch," says Peter Nielsen, one of seven founders with crackerjack histories in circus performance, coaching, and production. "It's an art form that has changed as much in 30 years as painting did between Van Gogh and Pollock…Contemporary circus is combined with modern dance, serious theater, innovative and experimental multimedia, and physical comedy…along with absolute athleticism."
Postmodern Entertainment
When the school becomes the country's first accredited circus college, it will pair nicely with Montreal, "the global hub of circus" and headquarters of Cirque du Soleil, established in 1984 but lately an electric agent of change in circus art. "We're seeing an interdisciplinary approach," Nielson says, to include Eurostyle showmanship and a touch of irony.
Still, why Portland, beyond the vagabond allure of Thomson's Point?
"The location is perfect. Transportation is a huge factor. The airport, Amtrak, buses, 295, an I-95 all end up right in Thompson's Point." That's important, since the CCA intends to attract and launch tours from existing schools in Canada and Vermont.
Then there's our joie de vivre. Nielson likes us for our attitude towards community-driven business and art, our DIY pluck: "There's a strong entrepreneurial flavor here, an integration between arts and business…Circus is a fairly hip culture. I knew if I was going to attract circus artists, it had to be a pretty hip city…I figured Portland would know what to do with us. Boston doesn't hold that cachet."