December 2013
Striking Back
Restaurant Review by Colin W. Sargent
Empire Chinese Kitchen infuses traditional dim sum with a bit of alt magic and Maine soul.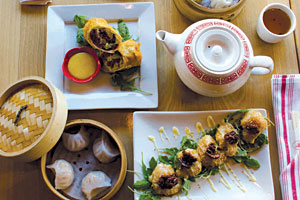 From 1916 to 1953, spanning two World Wars, the famous Empire Chop Suey was a fixture on the corner at 575 Congress Street. Not only was this a soldiers', sailors', and locals' attraction, there's even a tradition this luminous corner of the Forest City was one of the inspirations for Edward Hopper's 1927 painting Chop Suey (yes, he was in Maine then–see our story in September 2010, and our letter in this issue, page 16, featuring New York's claim).
Fast-forward to today. After six desultory decades, a chic descendent of this historic eatery returns. The Empire strikes back!
It's high concept–think Thelonious Monkfish in Cambridge without the 'menu blow.' The ECK's interior décor is a fusion of Asian notes, trendy industrial, and rustic overtones. The music ranges from rockabilly to gothabilly and R & B. The guiding spirit here seems to be Gordon Ramsay's rule that a restaurant discovers its greatness with a "small menu, few ingredients, high quality, and surprisingly low price for that quality."
Because it was our first time here, we asked owner Theresa Chan to give us a sample of Dim Sum and small plates that three of us could devour–and oh, yes, we were in a hurry. Fifteen minutes okay?
Inspired, she brought us her ingenious Empire Eggrolls ("local beef pastrami, asparagus, cabbage, honey Dijon"), a wondrous solution for East Meets West. Who knew someone could invent a way to enjoy a fried pastrami sandwich without the guilt? (A sharp knife is provided so you can share…) The Honey Walnut Shrimp are mouth-watering, the Spinach Dumplings in steam baskets so fun and tasty we were already planning our next trip back.
The Green Beans–"roasted garlic, salted daikon"–roared with color. The Pork Dumplings feature coriander and spring onion, deep and sweet; and there's a special technique for eating the Shanghai Soup Dumplings. First, pierce the dumpling when you bite to sip the soup, then dip the dumpling in a red sauce to complete the experience, which resonates almost three-dimensionally with this block of downtown: While dining, we take in the glassy storefronts of Peek-A-Boo Tattoo, Darkworkz, Otto, Strange Maine, and Springer's Jewelers.
Large plates intrigue with eureka jolts like Lobster Longevity Noodles with Tequila Sauce and Bacon Fried Rice with local bacon, sweet corn, and spring onion.
What a blast–fast, friendly, flexible, able to handle an impossibly quick lunch request. The words painted on the wall, "Yum Cha," loosely translate to "Drink tea"or "Tea tasting," though there's a full bar. Who wouldn't want to try the Oolong martinis, along with elixirs like Hu Shangs and Shiso Crazy? Everything feels right about this place, from the inside out. Damages for our memorable lunch for three: $40.
Empire Chinese Kitchen–575 Congress St., Wed.- Mon. 11:30 a.m to 10 p.m., closed Tues. 747-5063, portlandempire.com.
Meet Theresa Chan
"My great-grandfather owned a very large construction company in China. During the Revolution, our family was labeled capitalists," says restaurateur Theresa Chan, 27. "My father, a teenager, saw his family bullied, forced from the city, and 're-educated' as farmers, so he swam to Macau to escape."
Settling in nearby Hong Kong, Chan's father gained sponsorship and a chance to go to college in New York, where he met Chan's mother, who worked in the World Trade Center. "When I was 9, my father got a job at BIW but my mother loved her job in New York, so we commuted for 5 years. After the 1993 bombing, my parents figured it was time, so my mother got into waitressing. Soon she was managing Chinese restaurants here in Maine. So that's how we ended up here! I went to Connecticut College and then to New York myself but ended up returning when my parents wanted to partner with me to open Little Tokyo sushi restaurant in Brunswick. That led to hosting weddings and events on Great Diamond Island, where I first worked with my business partner Todd Bernard, and that's when we came up with the idea of opening a restaurant together."
–Colin S. Sargent