Winterguide 2014
Eat, Ski, Love
Sunday River's cozy and hopping ski pub has a thing for Neapolitan pizza.
Review by Diane Hudson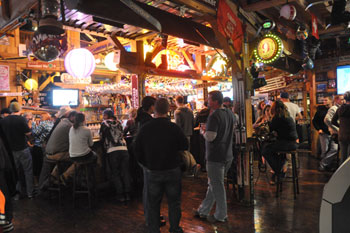 Twenty five years ago, near the base of the Matterhorn, a poster for a ski bar in Zermatt, Switzerland, changed Roger Beaudoin's life.
He walked inside and was captivated by "the North Wall Bar's international pub atmosphere. Here were people from around the world, drinking big steins of brew, eating pizza, and watching Warren Miller ski films on the big screen. Who knew that someday I'd open my own version?"
His Matterhorn Ski Bar is a huge, action-packed chalet-style restaurant a quarter-mile below the Sunday River ski resort, so named  because Beaudoin has climbed the Matterhorn twice.
"Our house specialty is wood-fired, thin-crust pizza that my business partner Patrice Miller and I researched in Naples at Italy's first brick-oven pizzeria. The owners took us under their wings. We brought back secrets they've used for 200 years."
Placed in the middle of the restaurant, the busy oven fascinates the throng of customers.
"We serve up to 350 pizzas on a busy night. We could get 15 in the oven at one time, but we try to do only eight or nine at a time–they cook faster, in three to four minutes at 900 degrees."
Start with a 12-inch, three-cheese pizza ($11.95), select a sauce–Matterhorn marinara, basil pesto, roasted garlic puree, or garlic parmesan–and choose from 25 toppings ($1.90 each). Or just grab one of the signature pizzas ($16). Among these are the Zermatt, with grilled chicken, sauteed spinach, feta, three Italian cheeses, and basil pesto; Weisshorn–buffalo chicken, diced bacon, blue cheese; and Edelweiss, the whitest pizza with alfredo sauce, caramelized onions, parmesan, and fresh mozzarella. For $7 extra, splurge on the Verbier, a Maine lobster pizza in alfredo sauce with tomato and asparagus.
Although pizza is literally front and center, the menu includes sushi, steak, risotto, penne bolognese, buffalo wings, bison, and particularly tasty baby back ribs. It's a kid-friendly place, with engraved mugs filled with Geary's draught root beer and an exceptionally popular arcade.
Speaking of mugs, the Mug Club boasts about 675 members. And there's a dance floor and live music throughout ski season. Tuesdays are "Deep & Cheap": wood-fired pizza at half price, local Angus burger with fries ($6.49), fried calamari with marinara ($6.99), and drink specials.
"It's really about fun, about the skiing lifestyle" says Beaudoin. Oh, and about that poster in Zermatt that inspired this "pie in the sky" idea? He rolled it up and took it with him. It now hangs at the Matterhorn
Matterhorn Ski Bar–Sunday River Rd., Newry; Daily from 3 p.m. 824-6836, matterhornskibar.com.