February/March 2014
River Dance
Sleek & chic in K-port.
Review by Diane Hudson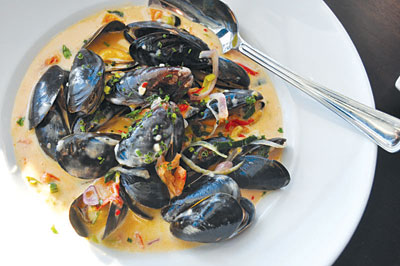 Nestling into a private, sunlit nook at David's KPT, we feel downright pampered in this modern space that envelopes us like a luxury liner or private yacht. We're right on the Kennebunk River with 180-degree views through curved floor-to-ceiling windows of docked fishing vessels, pleasure craft, and seaside architecture.
Enthused by the menu and a cheerful, helpful server, we begin with the bread basket and fine olive oil spiked with garlic, parmesan cheese and herbs for dipping. If this sounds ho-hum-so-what, let me tell you. The delicate mini-croissants here are just one of the expert touches that set David's apart.
Beverage choices are many and alluring. Inventive cocktails ($8-$10) include the  "Rainwater Gin," created with Bombay gin, Rainwater Madeira, Rose's lime juice, and cranberry; and the "Black Current": Stoli, triple sec, orange juice, and crème de cassis. Wines offer some surprises, with prices from $7 to $11 per glass, and bottles $26 to $250. Our selection, a Seghesio Old Vine Zinfandel ($30), mirrors our experience.
The range of appetizers and small plates includes duck-breast sliders with foie gras butter and cranberry apple gastrique ($8); as well as steak tartare with capers, scallion, truffle oil, arugula, and parmesan ($6). We select goat cheese pockets ($8.25). The insanely crisp pastry filled with warm goat cheese and lemon-pepper-grilled vegetables and crowned with tasty frizzled leeks is, we agree, a little bit of heaven.
Prince Edward Island mussels are priced daily, and preparations vary. Today's plump little devils are basking in one of the richest sauces we've ever encountered, a zesty, creamy concoction of tomatoes, garlic, leeks, shallots, cilantro, and sweet chili sauce. Terribly good.
An entrée of Crispy Skin Duck Breast ($25), perfectly prepared thin slices of tender meat brilliantly enhanced with sesame grilled baby bok choy, is splendid.
As I have many times savored David's signature pepper-crusted sushi-grade rare tuna ($25) at his Portland restaurant, I opt instead for the mixed grill ($24). The sirloin is cooked exactly as ordered–rare–and it comes with a skewer of large, tender shrimp and scallop, lightly dressed with citrus, parsley, and truffle oil. Mashed potatoes soak up the roasted garlic juices in fine style, making the dish another hit on this visit.
Desserts, like so much at David's, are artful presentations. At first bite, we dive into a gorgeous salt-caramel cashew chocolate torte ($8), nicely balanced with warm, frothy Amaretto sabayon. n
David's KPT–21 Ocean  Ave., Kennebunkport;  open daily 11:30 a.m. to close.  967-8223, boathouseme.com/dining/.