Falmouth Feast
Orchid Thai–the newest bloom in Pom's bouquet.
Review by Diane Hudson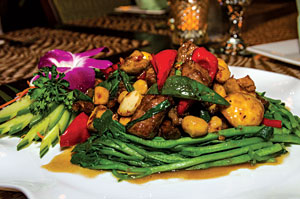 High-concept cuisine at Pom Boobphachati's Orchid Thai is redefining fine dining in Falmouth.
During our recent visit, we warmed ourselves with heavenly Tom Yum hot-and-sour soup, its spicy lemongrass goodness and just-right heat balanced by lime leaves, lime juice, and cilantro. Combinations include tofu, veggies, and chicken ($6); shrimp ($7); or shrimp, squid, scallop, and mussels with basil ($8).
Pom's Thai Wonton soup ($6) takes this simple choice to a new level entirely. Large wontons filled with ground chicken and shrimp sing in a lovely square bowl surrounded by crunchy baby bok choy, shiitake mushrooms, scallion, and cilantro, all in a rich chicken broth.
Steamed Butterflies ($8), the signature appetizer, take flight. Filled with caramelized chicken and herbs, ground peanuts, and turnips, these delectable dumplings, drizzled with coconut cream and served over crisp leaf lettuce, know exactly where to land and hit the spot.
Kendall Jackson Vintners Reserve chardonnay ($7/26) is a good pairing. Orchid Thai has a gorgeous full bar–separate from the dining room–serving imaginative cocktails, fresh oysters, and small plates.
Fork-tender Spicy Crispy Duck ($20) beckons with delicious, crisp skin. It is spicy, as noted by the two red peppers illustrated on the menu, and perfectly so. Red peppers, onions, mushrooms, basil leaves, and terrific brown rice provide a counterpoint. Stir-fried Shrimp Lomein ($16) noodles with large, succulent shrimp and fresh, finely cut veggies burst with flavor.
But the valley of amazement here is the Khao Soi ($15), a dish owner Pom says is "not found often enough at Thai restaurants in America." A product of Thailand's Chiang Mai region, it features melt-in-your-mouth braised beef short ribs over flat egg noodles, an exciting yellow curry sauce, and crispy noodles on top. Garnishes served alongside include red onion, pickled cabbage, and a lime wedge. Wow!
The daily dessert special ($10) is edible art–a scalloped plate sparkles with fresh blackberries, whipped cream, strawberry sorbet, and two slices of fried New York cheesecake, all drizzled with an excellent dark chocolate sauce.
Orchid Thai–202 U.S. Route 1, Falmouth; lunch weekdays 11:30 a.m.-2:30 p.m. Dinner weeknights 4-10 p.m.; open Sat. & Sun. noon -10 p.m., 747-8223, orchidthaifalmouth.com