May 2014
By Claire Z. Cramer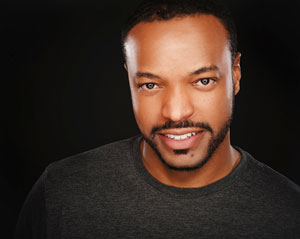 Even by opera-star standards, bass Kenneth Kellogg gets around. In his travels, he's sung Colline in La Bohème and Judge Turpin in Sweeney Todd at San Francisco Opera; he was Il Re in Aida in Atlanta, and at Washington National Opera he was Angelotti in Tosca.
On May 8, he'll appear at Merrill Auditorium in the world premiere of The Summer King, an original opera by University of Southern Maine music professor Daniel Sonenberg, 43. The Summer King tells the tragic story of Negro League baseball star Josh Gibson. Gibson's untimely death in 1947 just 3 months before Jackie Robinson broke the Major League Baseball color barrier kept him from the fame and recognition he almost would surely have received.
What is your favorite line in The Summer King?
It's in Sam's aria which comes as he's holding Joshua after he's taken his last breath. He describes Joshua as "a Joshua without God's invitation, never allowed to cross the Jordan River." This speaks volumes to Gibson's importance to the Negro League players… Unlike the Biblical Joshua, whom God parted the Jordan River for, Joshua Gibson wasn't allowed to [cross into] the big leagues.
Tell us about getting into character. Did Gibson really have a friend named Sam?
From my research Gibson was the best player to play the game of baseball. The Babe Ruth of the Negro Leagues or Babe Ruth was the Joshua Gibson of the big league, depending on your frame of reference. My surprise was that I never heard of him. Yes, he had a friend named Sam. Sam Howard Bankhead played in the Negro Leagues and with the Dragones de Ciudad Trujillo along with Satchel Paige and Joshua Gibson.
Have you ever been here before?
I've been to Maine but not officially. I was doing a show in sunny Florida, and Daniel wanted me come to Maine to sing Sam's aria and to participate on a panel discussion at the university. So I flew up to be part of the panel and I spent less than 24 hours here. I didn't even bring a coat. I had to run from car to building because it was so cold here. From what I was able to see in the blur, I want to visit the coast, some of the islands, and eat as much lobster and clams as my stomach can stomach.
Mezzo-soprano Lori-Kaye Miller plays Josh Gibson's wife, Grace.
"My favorite line I sing is toward the end of the opera when Grace argues with Josh before her aria and asks him, "What kind of King has to leave home to reign?" For some reason, that line means so many different things to me and maybe even to Grace at that time.
"In my childhood, my Dad talked about Jackie Robinson and Hank Aaron, but never anything about Josh Gibson."