May 2014
Cape Porpoise, Southern Fried
The Wayfarer is a down-home, delicious roadside tavern.
review by Diane Hudson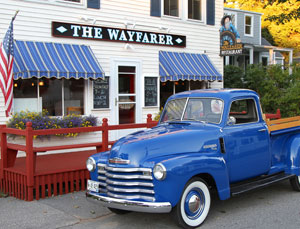 Having lived on Pier Road in Cape Porpoise for a year in one of my earlier lifetimes, I am intrigued to be returning to this magic spit of land.
Shock of the new: my favorite greasy spoon, The Wayfarer, has been transformed to celebrate its 50th year. By a southern chef, no less.
Soup of the day is lobster bisque ($6 cup), "with a claw sliced and placed on top," chimes our waitress. Delightfully creamy, with a rich briny flavor, it's a good start to a unique midday repast.
Chef Brendan Levin's tenure with Jeremiah Bacon at The Oak Steakhouse in Charleston, South Carolina, is reflected in his imaginative Southern-fried menu.
Take the shrimp po' boy ($12). Fried to a perfect crisp, the small, tasty critters are piled up on a homemade bun and served with hot, delicious fries, sans grease, and some of the best homemade pickles ever (a cross between dill and bread-and-butter, not at all vinegary). The remoulade transforms the shrimp. For rocket fuel, try a little heat from  tasty Cholula hot sauce tableside.
Fried chicken with Belgian waffles and maple syrup is real show-stopper, with its crispy-skinned, moist meat taking in the sweetness of the syrup, all complemented by perfect pastry ($14). Levin's secret for the unbearable lightness of this chicken? "You soak it in buttermilk, dredge it in seasoned flour and put it in the fryer. Lots of things are fried in the South–simple, when you know how."
Levin's Fried Lobster ($24), a one-and-a-half pounder, is a tasty variation. "You split open the lobster, soak it in whole milk, then lightly dust the exposed meat with seasoned flour and toss it, shell and all, into the fryer. Locals who swear they'd never have anything but a boiled lobster are coming in and having this once a week."
Another sweet plus is the owners' commitment to staying a BYOB restaurant. "We are happy to maintain the status," says owner Scott Lewis, "as our clientele is very much drawn to the amenity." Lewis recently sold Riverside Marina in Kennebunk, where he and wife Dee summered for the past 10 years. They're looking now to sell their horse farm in New Jersey to be in Maine full time. "We love it here."
We raise our glasses of Fetzer Gewurtztraminer in the The Wayfarer's stemware, and devour a hefty slice of chocolate bourbon cheesecake ($7). We love it here, too, and will return–perhaps for one of the Monday night roasts ($12), featuring leg of lamb, rib-eye, meatloaf, barbecue pork loin…or maybe for the maple glazed pork belly ($8) or seared organic salmon ($19).
The Wayfarer, 2 Pier Rd., Kennebunkport. Breakfast 7 a.m.-11:30 a.m., Lunch 11:30 a.m.-2 p.m., Dinner 5-9 p.m., 967-8961 wayfarercapeporpoise.com