September 2014
SUPER Sicilian
He's back!  Stephen Lanzalotta lights up the former Portland Public Market.
By Diane Hudson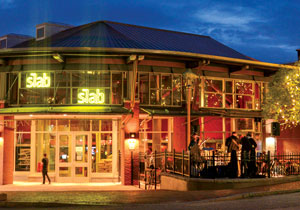 Hot, delicious Slab has transformed the erstwhile Portland Public Market (1998-2006) with a stab at Sicilian vivacity.
Celebrity baker Stephen Lanzalotta has teamed up with Jason Loring, Matt Moran, and Tobey Moulton of Nosh Kitchen Bar to create a stunning interior design that takes advantage of the 30-foot ceilings with a balcony and bold, hot colors. Italian tiles cover a curved entryway to the kitchen. The cafe tables in the grotto outside are often vibrating with live music.
Given Lanzalotta's impeccable reputation as a baker and as an Italian cook–and the popular and tasty scene at Nosh–we come expecting much and are not disappointed. Bar manager Emily Kingsbury's created an outstanding but accessible variety of brews; delicious wine offerings (Cantele Primitivo, $8/32, Neirano Prosecco, $9); and intriguing cocktails ("Confession"–Grappa, Aperol, Luxardo, maraschino, bubbles, $10). We begin with pints of beer: Lagunitas A Little Sumpin' Extra double IPA ($7), full-bodied and satisfying; and Southern Tier 2X Stout double milk stout ($6), a pleasingly lightweight accompaniment to the intense food flavors.
The starring attraction? The beloved Sicilian slab is back–the outsized "abbondanza style" square of pillow-soft dough dressed with a subtly sweet tomato sauce, mozzarella, and provolone ($6).
Billed as "Sicilian street food," the fare harkens to a region of historically varied occupations. An Arab touch prevails here, with casserole-style cooking; hand-held food; subtle seasoning; and high-quality fruits, nuts, and grains.
"The Sicilian food idea gives me a big, broad palette to paint with," says Lanzalotta. "Spices and herbs are varied due to all of the cultures that have influenced that diet as well as the climate that allows herbs like cilantro and lots of citrus. I love the flavors of North Africa." Lanzalotta, who grew up near Providence, Rhode Island, learned authentic Italian cooking from his Neapolitan grandmother. Contrary to popular perception, he's never been to Sicily; his dishes are "all my research and imagination, plus some help from a Sicilian friend."
We find exquisite flavors in the Caponata ($9). A perfectly baked, slightly crisped luna bread "sole" is topped with a divine mixture of eggplant, capers, onions, celery, olives, and melted cheeses in a deep, dark, semi-sweet sauce. It's joyously vegetarian and universally appealing.
It goes well with the Salumi appetizer ($7), and the Slaw ($6), a "crisp shaved Sicilian salad" of green cabbage, bulb fennel, red onion, sheared romaine hearts, julienned carrots and golden beets, and fresh basil leaves dressed with a creamy curry-orange-cumin dressing.
Sicilian Jerk Chicken is a whole leg quarter delightfully seasoned with the moist meat falling off the bone. Accompanying grilled orange slices complete the magic.
Craving more of that insanely delicious bread–which is nothing like pizza dough–we're captivated by the Sausage Raab Shoe Bianca ($9) served with a side of "slab gravy." Crumbled, tender sausage meat is mixed with lots of quality cheeses and tasty, bright green broccoli raab, all tucked into that dreamy pillow of luna lusciousness.
Do make time for dessert here because it's another Lanzalotta forte. Sharing an ice cream cone cannoli ($6), a delicate cocoa waffle cone filled with stupendous orange pistachio house-made ricotta cheese is simply splendid. We top it off with Coffee By Design's Sophia's Blend coffee. This Sicilian vision's worth sharing and celebrating, a generous slab of heaven on earth. Grazie.
Slab, 25 Preble St., Portland. Monday through Saturday 11 a.m.-1 a.m. 245-3088, slabportland.com.