November 2014 | view this story as a .pdf
Hitting the Spot
Freeport's cozy Broad Arrow Tavern refreshes the classics with the best local ingredients
Review by Diane Hudson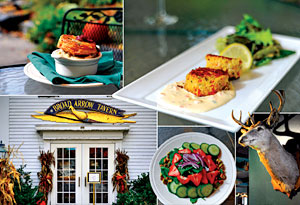 We've worked up an appetite shopping among the "Bean sprouts" boutiques around the L.L. Bean Retail Store, and we're starving.
We settle in, happy to be off our feet at the rustic tavern hidden within the Harraseeket Inn. Flames crackling in the big central fireplace warm us, as does the cheerful crowd. And I do mean crowd. Be sure to arrive early because they don't take reservations–at 6 p.m., we're given the last available table directly under an enormous moose head. Surrounded by vintage artifacts–old canoe paddles, snowshoes, photographs, maps, memorabilia, and soothing antique lighting–we're ready to dive in to a first course of fried calamari ($10).
Cloaked in a terrific light batter (I would order anything fried here–there are also fried Maine clams and oysters), the squid rings and tentacles jump with a unique, sweet sauce with just the right heat and local baby spinach. Chef Eric Flynn describes his food as "refined, contemporary New England cuisine" to which he adds "classical French cooking techniques with a nuevo twist" (this sauce is definitely that). Fresh organic ingredients rule here. A list of 36 local purveyors appears in the margins of the menu.
"Never had squid this tasty," raves my friend. We toast our good fortune with a sip of reliable Kenwood Cabernet Sauvignon ($24) and head on into the next richly satisfying dish: wood-oven-roasted Maine mussels ($12). They're a cut above, featuring a delicately balanced broth created with roasted hazelnut and garlic butter, and a thick slice of bread lightly blackened on the grill–perfect for dipping.
Salads ($8 to $10) here are splendid, from the classic Caesar to a seasonal salad (bibb lettuce, arugula, goat cheese, shaved almonds, pomegranate vinaigrette). Demi orders are available ($5).
Torn between the chicken pot pie ($17) and duck breast ($22) we finally opt for the duck. Oven-roasted in a wood fire and then thickly sliced, it's cooked perfectly to order and enjoys the dramatic tension of an accompanying blueberry/fig compote. A huge, show-stopper prime rib ($26) from Pineland Farms is set in front of me. Delicious it is, served with mashed potatoes, a bevy of roasted vegetables, and horseradish cream.
We can't forgo the Indian pudding à la mode ($6.50), and this rich molasses concoction just might be the best version we've had. Wow.