October 2014
Maine Mediterranean
A Brunswick hot spot has a peasant soul.
Review by Diane Hudson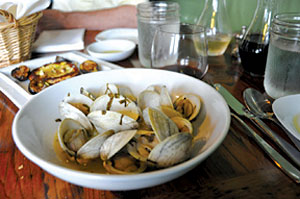 Trattoria Athena offers a unique blending of Italian and Greek cuisine, reflecting the heritage of the owners. Tim O'Brien's roots are in Italy, and Marc Provencher's extend to Thessaloniki. On a festive Sunday visit, we find the offerings are mainly Greek and prepared by Marc.
Tempting choices (five appetizers, five entrees, three desserts) appear on a chalkboard. The special four-course, fixed-price Sunday dinner is $35 to $40; an additional $5 includes unlimited–and very good–house wine.
Trattoria Athena achieves culinary heights without losing any of the friendly comfort of the Greek tavernas we remember from our travels there, including the fresh, local ingredients. A wonderful appetizer, Achivades, for example, features steamed littleneck clams from Harpswell. They're tender yet meaty, in a delicious broth flavored with house-grown sorrel, white wine, and butter.
Excellent bread makes for good dipping; it's served with superb olive oil from Lakonia Greek Products in Saco.
Next we share halloumi, a wildly flavorful cow's milk cheese from Durham's Spring Day Creamery, grilled to perfection and enhanced by pistachios, local honey, and seared figs sporting a tiny bit of sea salt.
Our next course, which we ask to share (there is absolutely no feeling of being rushed here), is a real show-stopper. Moschari Stifado is stew made with veal from Eastern River Cattle Company in Dresden. Braised slowly for hours with onions, garlic, fresh tomatoes, cabbage, rosemary, and roasted red peppers, this robust dish is completely satisfying, full of the most tender and flavorful meat imaginable. We raise our glasses to the chef–Yiasou, Markos!
On to another shared course, we happily devour a swordfish steak. I am looking for a secret here–the fish is as good as we've had anywhere, lightly seared and simply prepared with nothing more than olive oil, lemon, and fresh dill. "No secrets," says Marc. "Just the freshest fish available and don't overcook it." It's served over the finest peppery mixture of baby mustard, arugula, and dandelion greens.
Ah, now for glika, the sweets. They've run out of Bee Balm Brûlée, but an apple and fig crisp and Kolokithopita (zucchini cake with pistachios), each topped with fresh whipped cream, are wonderful.
Reservations here are a must.
Trattoria Athena, 25 Mill St., Brunswick. Tuesday through Sunday 5-9 p.m. 721-0700,trattoriaathena.com.