December 2014
West End Enchantment
Portland's stylish new dumpling palace has its own lucky dragon.
Review by Diane Hudson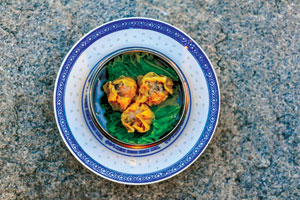 We rush through the spitting snow and gusty winds into Bao Bao. Inside this charming dumpling house, which is quickly winning fame for its specialty, we shift gears and try the Spicy Pigs Ears ($6.08) for reasons all our own.
The ears are hot stuff–beware! The heat comes from arbol chili oil (also found in little pots on the table). Braised with kombu and black cardamom, they're then pressed and shaved. Gelatinous in texture, they're tucked in with napa cabbage, which gives the dish a good crunch. A slight sweetness derives from shanxi, a sorghum-based vinegar.
Greens in Oyster Sauce ($7.08) mitigates the ears' spicy bite. A flavorful sauce complements excellent steamed white rice ($1.08).
On to the dumplings. Our first indulgence, Steamed Hake, Burdock ($8.08), is like nothing we've seen anywhere. "Thread-cut" dumpling wrappers are ribboned layers enveloping the tender fish. Happily devouring our six pieces, we accelerate into our next plate of dumplings: the absolutely essential Lamb, Black Bean, Chili, Peanut ($8.08).
The lamb is good, like my Scottish grandmother's. When lamb talks, it talks, and this dumpling says it all. Manager Chris Gilman tells us Bao Bao translates to "wrapped treasure." Bite by bite, we share the discovery.
I'm enjoying Lion Stout from Sri Lanka ($8). Rich and almost sweet, I learn it is a favorite of Bao Bao's chef/owner, Cara Stadler. Next up, beef and yellow curry dumplings ($8.08), seared. The browned exterior works well with the intense, curried meat.
We love the serious tea menu here and we slip into an excellent chai ($4), steeped for four minutes–perfect. We pair it with Pandan Leaf Panna Cotta ($6.08) for dessert. The coconut milk gives it a rich texture, and it's topped with mango puree.
As for why most menu items are priced with .08 at the end, "The number 8 is considered to be very lucky in China," Gilman says. "It seems to be working its magic here, too."