February/March 2015 | view this story as a .pdf
Bonheur on Wharf Street
Follow the cobblestones to the city crêperie.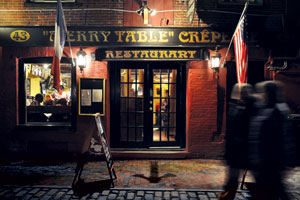 Wharf Street in Portland is magical on this night as we cross the cobblestones, casting glances toward the deep blue skies studded with Van Gogh's stars. Cheerfully lit windows line our way to the warm and inviting Merry Table.
Almost immediately upon being seated–"anywhere you like"–by host, founder, and owner since 2009 Jean Claude Vassalle, my partner exclaims, "This is so personal, informal–you really feel welcome." I sip a Pomegranate Martini ($8.50) garnished with an orange slice. The dining space is small but so comforting with its cheerful yellow hues, French posters, exposed brick walls, fireplace, and charming little bar. So far from Gaul, yet it's a short lovely walk with no passport.
Since it's billed as Portland's only French crêperie, we begin with the savory Poireaux crêpe ($13.95). Accompanied by fine crisp greens, shaved carrots, and a simple but successful vinaigrette, the neatly rolled entree crêpe is a perfect balance of flavors. Filled with braised leeks, wild mushrooms, and goat cheese, it's a vegetarian's dream and very substantial.
Our next course, a carnivore's delight and an absolute must when dining in a French establishment, the Boeuf Bourguignon ($19.95) is another success. A carafe of Nicolas Potel Bourgogne Pinot Noir ($20) arrives, and it stands up well to the rich flavors of the most tender beef imaginable in an intense and smoky gravy with hints of bacon and colorful carrots. There's a good crusty half-baguette to help sop up the juices. We can't imagine a better choice on a cold blustery night. Other classics on the menu include cassoulet–a duck stew with canelllini beans, sausage, and bacon ($21.95); and the Cordon Bleu crêpe–chicken, Black Forest ham, blue cheese, Swiss cheese, and bechamel ($13.95).
We shift to a dessert crêpe of sweet Mascarpone cheese with pear and apple in spiced red wine ($6.95). A reduction of the fruit in the wine poured over the dish is attractive and tasty, and a dollop of whipped cream adds a nice balance.
The Merry Table, 43 Wharf St, Portland. Lunch 11:30-2:30, Tues-Sat; Dinner 5:15-9pm Tues-Sat; Sunday brunch 11-3pm. 899-4494, themerrytable.com