April 2015
Club Med
Marriott treats with distant shores, transpontine allure. 
Review by Diane Hudson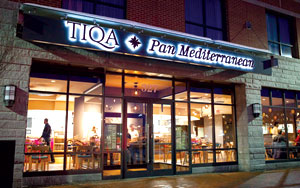 With 300 seats, extraordinary TIQA in the new Marriott Hotel on Commercial Street has just sailed into port with an exotic odyssey for a menu. The faraway flavors would do Ulysses proud.
Traveling first to Lebanon, we're dazzled by a puree of red lentils ($6) gorgeously garnished with a crunchy celery root salad. Complimentary house-made pita, served with bowls of olive oil and za'atar spice mixture, could not be a better accompaniment to this satisfying dish.
Next is Portugal, for the beautiful Bacalao ($12), luscious cream-braised salt cod whipped with potatoes and olive oil, and topped with the most tender calamari we have ever, ever encountered.
A friendly debate ensues over our next destination: Africa or Palestine? The latter wins, although the Chicharrón ($12)–chorizo cured pork belly with fried jalapenos and raisin vinaigrette–is hard to forgo. Ah, but the Kibbeh Nayyeh ($12), a round mound of richly seasoned ground raw beef and lamb, served with toasted za'atar crisps, is the stuff dreams are made of.
Tunisia follows with Harissa Lamb ($16), a skewer of five good chunks of char-grilled meat. The tender lamb's flavors are enhanced by perfectly seared squares of marinated eggplant, tomatoes, and green onions.
We land at our next haven, Sicily. Here we discover Coda Brasto Del Libano ($22), a heavenly mixture of sumac-braised beef with pappardelle seasoned with turmeric and topped with dukkah, a crumbly nut and spice mix. The pasta is divine–the dish works like a charm.
Our voyage finishes on a bright note with Knafeh ($7), a savory Palestinian cheese custard wrapped in crispy kataifi–perfect with our last sips of a full-bodied Whiplash Zinfandel from Lodi, ($26). May the gods be not too jealous, we think as we depart.
TIQA, 327 Commercial St, Portland, Mon-Wed, 11am-11pm; Thurs-Fri, 11am-1am, Sat, 10am-1am, Sun, 10am-11pm. Free valet service, 808-8840 or tiqapm.com