May 2015 | view this story as a .pdf
Ian Harvie talks about life, stand-up, and his annual Maine Comedy Weekend in Bethel.
Interview by Jeanee Dudley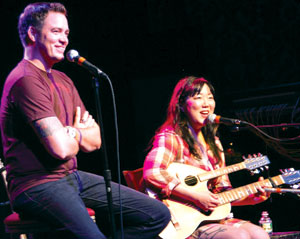 Comedian, actor, and transgender activist Ian Harvie began his career in the Old Port's comedy clubs. His fame took a great leap forward with his co-starring role in Transparent, Amazon's Golden Globe-winning 2014 series directed by Jill Soloway.
Born in Portland, Harvie, 46, grew up in Bridgton. After a year at Lasell College in Boston, he left school, knocked about, and traveled for a few years before settling in Portland. In 1994, he interned in the design department at Maine Publishing Corp., which published Maine Times and Casco Bay Weekly. In 1996, he started his company WebSmith in Portland. He cut his teeth in stand-up at the Comedy Connection here and in Boston. In 2006, he uprooted to Los Angeles to take a shot at the big-time.
Growing up, were you influenced by Maine legends like Tim Sample?
I remember hearing Tim on the radio around the holidays, but I was more of a TV kid than an album kid. I was all about Flip Wilson and Carol Burnett. I loved shows like Laugh-In–all those comedy shows where people cracked themselves up in the middle of the scene.
How'd you get into the comedy scene here?
I owned a web development company in Portland about 13 years ago. There, I got a booklet in the mail from some random guy offering comedy writing lessons at Portland Comedy Connection. The guy teaching it, Tim Farrell, had done writing for The Daily Show–he still runs the class, and we're good friends. He sent his pamphlet out to a bunch of businesses with no targeted audience, so I got it in my office. I'd always wanted to do something like that. But I was scared, so I let it sit on my desk for a few weeks. Then a few days before it started I called Tim. He answered, said he had one spot left, which I guess is a great sales pitch.
What was the class like?
It was in a comedy club at night in the dead of winter, so it was freezing–everybody in parkas and turtlenecks and hats. They had all the lights on like it was show time. Tim had us talk about our comedy idols and why we liked them; the whole thing started out as a conversation about how we find the things we think are funny. He had us write down our ideas and then–by surprise–he had us get up on stage and read to the class. It's a good thing he doesn't warn you beforehand, because I think a lot of people wouldn't have shown up. At the end of the six-week class, our friends and parents came and cheered us on. After that performance, I was hooked. I took the class again and ended up with a guest spot at the club, which turned into a hosting gig and then teaching. Four years in, I realized I had to move if I wanted to make a career of it. It could have been New York, but the warm weather tipped the scales, so I went to Los Angeles.
How did your family react?
My parents weren't too shocked. They're always like, 'Okay, what's next?' Nothing surprises them anymore. Unless I were to come out to them as an incredibly conservative right-winger–pretty much the opposite of me–they wouldn't be surprised. It's funny, my mom thinks I'm a much bigger adventurer than I am. I'll call them to say hello, and she says 'Ooh, where are you now?' I do travel a lot and I have been to a lot of cool places, but she thinks it's some wild safari. I also think they thought comedy was a natural fit–when I was a kid, I was an entertainer. My cousins and brothers and I would put on shows, and my job was to come in at intermission and do comic relief. Of course back then I wrote horrible jokes that made no sense.
When did you realize you could really make it?
I didn't come to L.A. to make money. You come here to meet people and do lots of different things. You don't make much money doing stand-up in the clubs. The goal is to meet somebody working on a cool project that you can be a part of; then you go out on the road to make money.
About six months after I moved to LA, I met Margaret Cho, who took me on the road with her. That was when I got to experience this business on a larger scale, and she really showed me how it could work. It works if you hustle and bust your ass and are patient–as long as you don't give up before the miracle or before the next great thing you get to do. She was my example for that and where my belief kicked in. I was going to pursue this whether the money came or not. Making art and getting paid is the beauty of it.
Tell us about working with Cho.
She's incredible. She has a really good eye for seeing what part of what community needs to be lifted up and what voice needs to be heard. When I met her, I was scared to do a set in front of her. She told me the trans community needed a voice like mine and that nobody was doing what I was doing. She wanted to make sure I was heard. That's how she's made her choices in life. I've worked with her on and off doing shows and benefits. She's an incredible friend, not just my mentor. We help to finish each other's jokes, like any other comic friend. We spend holidays together, and I've met the rest of my extended family through her.
Did you ever think you'd be an actor on a Golden Globe-winning show?
I think all of us collectively felt it was really special. I know it was for Jill Soloway, in part because it's about her real family. I don't know if we knew the reach it would have and how many people it would speak to.
What do you think Transparent has accomplished in terms of visibility for the transgender community?
What's happened is part of a revolution around the way people see trans people. The show is largely about family and what love is: You stand by your family, no matter what. The show is about, "Will you love me if I…?" The answer is always a resounding yes, no matter what. I am really glad this conversation is happening about trans identities. I think trans people are finally seeing themselves portrayed in the media in a way that is honest and real, and not as horrible stereotypes people have shown over the decades.
Trans people have families; we know how to love; we have relationships; we work. Even in my stand-up I talk about who I am and tell my story. People walk away having a new context. Then to have that recognition by the Hollywood Foreign Press, Golden Globes, GLAAD Media Awards, and Jill winning at the Directors Guild–it was like, 'Right, they see it too.'
I mentor about a dozen trans youths and some adults. I'm doing a benefit at the end of this month for CampOut, an LGBT youth camp getting started. I've donated time to Trans Youth Speak, an organization for events to share stories with other young people. In Seattle, I love to do benefits with the Gender Justice League. I also love doing PRIDE.
What's next for you?
I just shot a film, Upended, by writer and director Tessa Blake. I play the lead with Amy Landecker, who plays the oldest daughter on Transparent. We finished that the weekend before I came to Maine a few weeks ago to speak at Deering High School and Cape Elizabeth High School.
Any upcoming shows in Maine?
Every year my girlfriend and I come back for the summer to produce the Maine Comedy Festival [mainecomedyfest.com]. This will be our fifth year. I always ask favors of people like Margaret and Fortune Feimster to come and headline. This summer I asked my friend Kate Flannery from The Office. We try to balance an equal ratio of Mainers to outsiders and men to women. Actually, last year I think we had more women than men. It's always the first weekend in August at the Bethel Inn. We have a charity golf tournament, shuffleboard, a poker game, and we go cliff jumping and ziplining in addition to the comedy shows.
We do a workshop. It's like summer camp–it's not competitive, we just want people to have a good time. It's like a modern-day Dirty Dancing where nobody gets put in the corner. Everyone has fun, participates, and laughs their asses off. I love coming back to perform, see my friends, see Maine comics, and show Mainers there are a lot of funny people in Maine.
What do you just have to do while you're here?
I do love Chez Reny. I'm pretty old school. What I like most is to pop in on old friends from high school without calling–that's probably the highlight of any visit. I like to see my comedy buddies. I know a lot of great comedians in Maine, and I try to get together with them. We all try to one-up each other, tell stories, and laugh. We play golf at the South Portland Municipal Golf Course. We'll put together an illegal five-some or six-some and shit-talk the whole nine holes. In the summertime, I'm all about lake swimming. I'm obsessed. I grew up on the lake–Beaver Pond–and last summer I decided to try and hit up as many great swimming holes as possible.
Give us 10 seconds back home in Maine.
My mom and I are in Goodwill in Portland and she hollers "Janet! Come here!" and I'm like, "Mom!"