May 2015
Another Bayside winner near the Post Office.
Review by Diane Hudson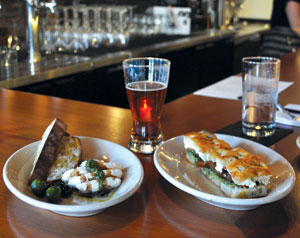 Snappy new Isa boasts original metal ceilings, gorgeous wainscoting, and classic black and white mosaic tile floors. Thirsty for a deal as well as an intimate bottle of wine, we choose the Lechthaler Pinot Noir (Trentino, Italy, 2012, $8), a good medium-bodied red that quietly sets the evening in motion.
Braised local rabbit ($14) puts us on the hunt and hints of wonders to follow. Sweet, moist slices of tender meat bathe in a delectable olive salsa, with carrots and Appaloosa beans. This could be a main course it's so good. We also try terrific French green lentils ($6) lovingly cooked in pork fat and served over a bed of grilled kale.
Add to this the Standard Baking sourdough bread and excellent olive oil for dipping–who needs more?
Foraging on in the eclectic, 20-item menu, we find a treat in Isa's unique bolognese ($16). It's served with delicious al dente tagliatelle, a splash of Maine Beer Company's Mean Old Tom, and topped with a festive crown of shaved fennel and pecorino.
We're informed the pan-seared monkfish ($22) is sold out, but we take the loss in stride as we happily devour an incomparable bistro steak ($22). Intensely flavorful, thin slices of perfectly cooked medium-rare beef dazzle against a feisty green peppercorn sauce. Crispy fingerling potatoes sporting a dusting of pecorino and a refreshing salad of fresh greens and radishes make a perfect accompaniment.
The best sweet ending is a small jar of homemade custard with blackberry topping. Leaving with a feeling of great satisfaction, we inquire about the name Isa. Co-owner Suzie St. Pierre informs us it's named for her husband, chef Isaul Perez.  n
Isa, 79 Portland St., Portland. Mon-Thurs, 11-9:30; Sat, 5:30-10; Sun, 5:30-9:30; Tues, Closed. 808-8533, isaportland.com