Summerguide 2015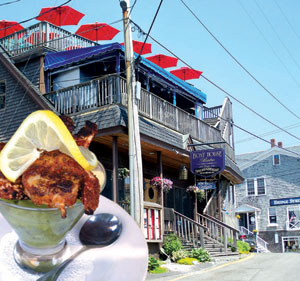 The Boathouse Bistro Tapas Bar & Restaurant in Boothbay Harbor is neither a typical bistro nor a tapas bar. For one thing, the menu lists more than 80 dishes. Prices are modest to moderate–not typical in a popular Maine coastal town.
The atmosphere and staff are friendly and fun. You climb to the top floor to sit under red patio umbrellas and enjoy views of village and harbor, or slip inside to duck the fog or wind. Either way, you're in a Vacationland movie set.
Hungry and drawn to the Dock Purged Maine Steamers for $15 a pound, soaked in crates in the "clean waters of the Damariscotta River to release grit and sand," I'm convinced instead to share the scallops with blackberry gastrique ($11). Luscious and large, three of the most succulent bivalves in my recent memory are grilled to perfection. The slightly tart blackberry concoction works wonderfully topped by candied ginger and a crispy fried wonton set each. Brilliant.
Shellfish reigns here. The region is known for oysters, and what many connoisseurs consider to be the best (Glidden Point) are served here with tequila lime mignonette ($3.50 each) or baked with crabmeat and sauteed leeks, crowned with cheddar cheese. Or try littlenecks, 10 of them, steamed with wine, garlic, cherry tomatoes, and herbs ($15).
But we're also drawn to the classic surf and turf–grilled New York strip with grilled lobster tail ($32). Or should we take flight? The duck breast with orange Grand Marnier demi ($22) is juicy and pink inside, with scalloped potatoes and tender, buttery broccoli rabe.
We can't resist grilled lamb chops, medium rare as ordered, rubbed with Indian spices and accompanied by a zingy mango salsa and cooling cucumber yogurt sauce ($32). This is also available as a "Hot Tapa," a smaller portion for $15.
Desserts ($7) are not to be skipped. Crème brûlée arrives as a trio of flavors: Godiva chocolate, Frangelica, and Baileys Irish Cream. The blood-orange cheesecake is velvety smooth and oh-so-good.
Boathouse Bistro is not your typical anything. Its surprises make it an evening star.
Boathouse Bistro Tapas Bar & Restaurant, 12 The By-Way, Boothbay Harbor. Open 7 days, 11am-9pm. 633-0400 theboathousebistro.com