Summerguide 2015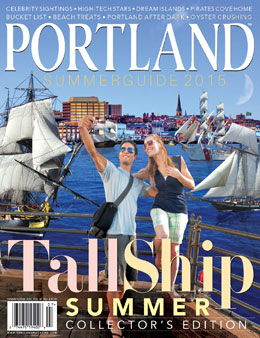 Special: 56-Page Tall Ships Guide
89 Incoming! Summer of the Tall Ships
A complete guide to the historic fleet and the schedules across the summer.
By Colin S. Sargent, Foreword by James L. Nelson
Personalities
63 Now That's a Wrap
Tim Janis, Kate Winslet, and Jane Seymour are behind a new film shot in York, the Kennebunks, and Portland.
Interview by Colin W. Sargent
183 Hollywood East
Does Tinseltown have a Yankee accent? It's getting that way.
By Zee Krstic
199 Broadway's Maine Man
John Cariani's getting rave notices in the Tony Award-winning new musical Something Rotten!
Interview by Colin W. Sargent
272 Flash
Shelter&Design
189 Lively Ladies
Your tour through six Historic New England mansions.
From Staff & Wire Reports
225 A Sense of Space
For Sale: A Yankee trophy home of the shiplap variety.
By Colin W. Sargent
233 House of the Month
Pretty Marsh got even prettier when Pirates Cove Farm was built in 1778.
236 New England Homes & Living
Art&Style
71 Light Fantastic
Ogunquit Museum of American Art showcases the California cool of Alfred Chadbourn.
By Daniel Kany
265 Fiction
"The Pending Loss"
By Douglas Kennedy
Food&Drink
145 The Shell Game
Epicures: Maine oysters and their bragging rights.
By Claire Z. Cramer
209 Stalking the Wild Food Trends
Hungry Eye shakes the town for the latest.
By Claire Z. Cramer
217 Guilty Pleasures
Where do the cognoscenti go for lobster rolls and ice cream?
Interviews by Claire Z. Cramer
230 Restaurant Guide
231 Restaurant Review
Boothbay's Boathouse Bistro, Tapas Bar & Restaurant
Perspectives
28 From the Editor
30 Letters
151 Tomorrowland
We're not just about organic farms and country inns.
By Karen Hofreiter
205 Deconstructing Evangeline
The Acadian diaspora: So it wasn't just the redcoats.
By Don Levesque
Maine Life
32 Maine Classics
35 Experience
55 Chowder
57 Portland After Dark: Starry Nights
Feel the rhythm of the night.
By Olivia Gunn
79 Things You Must Do in Maine This Summer. Or Else.
Don't miss the boat.
From Staff &Wire Reports
161 Dream Islands
One of them can be yours, because they're all for sale.
By Jeanee Dudley
172 Portland Magazine: Celebrating 30 Years of Bringing Maine Alive in Print
A special advertising section.
229 L'Esprit de L'Escalier
The magnetic pull of Old Orchard Beach.
By Rhea Côté Robbins