September 2015 | view this story as a .pdf
Bayside BBQ
Terlingua brings lots of Latin flair to the hipster end of Washington Avenue
Review by Diane Hudson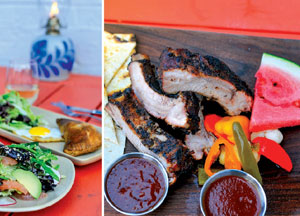 Este es el paraíso," says my dining companion as we take our seats in Terlingua, a bite of fall in the evening air.
Our drinks are heavenly, too–dead-perfect margarita and a daiquiri ($10). A zesty mushroom empanada ($10) arrives, sporting a buttery crust and bursting with flavor. It's accompanied by a tasty fried egg and delicately dressed Winter Hill Farm lettuce.
We continue with the Pork Belly Chicharron ($7 for smaller portion, $13 for large). I say go large for this fork-tender, sensationally seared strip of pork belly edged with crisp greens.
Just then our bartender whispers, "You want barbecue, you'd better order up quick." So we do–it can and does sell out.
Though not specifically a barbecue joint, (Terlingua bills itself as "boutique barbecue"), the house-smoked meats–daily preparations listed on a board at the bar–offer some mighty fine fare along those lines. Crossed off a second after we order, our St. Louis ribs appear, perfectly blackened on big bones ($14/$21). With these tender beasts are savory sauces (spicy vinegar and sweet-and-smoky), slices of ripe watermelon, a tangy mixture of house-pickled vegetables, and grilled pita bread.
We can't resist the Wagyu brisket ($21/$28), top-notch beef justifying the 'boutique' moniker.
Sides have a Latin flair. At Terlingua you find no corn bread, slaw, or baked beans. Instead, we thoroughly enjoy the sliced avocado and tomato with salted cucumber ($5) but could easily scarf up slow-cooked greens with pork belly ($4); grilled corn with bacon, cotija cheese, and cilantro ($4); or roasted cauliflower with poblano and cheese ($5).
A trio of sorbets completes a most delightful dinner.  
Terlingua, 52 Washington Avenue, Portland. Closed Tuesday, Dinner 5-9 pm, late night snacks, 9 pm-close. 808-8502, terlingua.me