November 2015 | view this story as a .pdf
Re: Union
Hot off the Press! The news is delicious at Portland's new hotel restaurant.
Review by Diane Hudson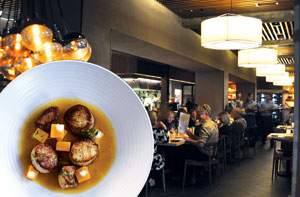 "Definitely different," says my companion as we sit down at Union in Portland's Press Hotel. He worked for the Maine Sunday Telegram at this location for 27 years.
The restaurant occupies an airy space on the ground floor of the former Gannett newspaper headquarters, now one of Marriott's upscale Autograph Collection hotels.
We begin with the charcuterie plate ($17), a substantial offering of three locally cured meats accompanied by good grilled bread, fennel mustard, and pickled veggies. This, with a fine IPA (like Baxter's Stowaway, $5 can), could serve as a satisfying repast. We opt, however, for a wonderfully satisfying wine, Michel Picard Vouvray ($30).
The chef's tasting menu ($55 for three courses, $79 for five) leaps off the page with three headliners. The first, pậté de foie, is beautifully presented. Accompaniments include incredibly tasty tiny pickled mustard seeds, black truffle vinegar in little drops on the pretty black slate, and a tasty brioche crouton.
Next up, native beet salad–a bountiful bowl of perfectly cooked red and golden beets glowing atop a delectable dressing of local yogurt, curry oil, and ginger emulsion. This dish alone is proof the Union lives up to its self described "farm to table hotspot."
Our carnivore lust is indulged by Chef Josh Berry's smoked sirloin of beef with a nice rare middle. The whole plate works wonderfully with the smallest, tastiest baked potatoes (again, farm freshness), exquisitely browned cauliflower, red cabbage puree, and a sinfully rich blue cheese glacé.
Desserts, like everything at Union, are a sight to behold and devour. The chef outdoes himself again with a gorgeous array,  including autumn squash pudding, cinnamon gelato, burnt sunflower butter, pumpkin puree, and whipped maple syrup.
We finish by plunging into the Bee's Knees ($9), a light pistachio cake with heavenly lavender gelato, honey brown butter, honey powder, and local bee pollen.
A memorable experience, on all counts. Be sure to make reservations well in advance, though the full menu is also available at the very comfortable bar seating.  
Union Restaurant, 390 Congress St., Portland. Open 7am-10pm daily, Sunday brunch, 12-3, 808-8700 or thepresshotel.com
Comments or questions about this story? Email us now!