December 2015 | view this story as a .pdf
Neither snow nor sleet nor gloom of night stays these stalwart biking commuters.
By Jeanee Dudley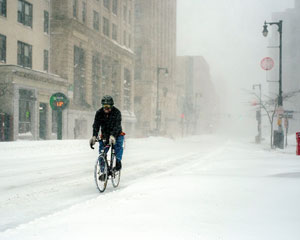 For most people, the commute to work is a pain–literally and metaphorically. Even driving across town, Portlanders can expect to be on their duffs too long in frustrating traffic, listening to bad news on the radio. What a way to start the day. No wonder many locals are taking a break and leaving the car at home–or not owning one at all.
Nicole Anderson says she converted to two-wheel transportation 10 years ago. "I ride my bike year-round for a bunch of reasons: environmental [benefit], for exercise and to be outside," she says. "I started because it's an affordable way to get around. It's still an affordable and fun thing to do–it's also an easy way to keep active and not spend so much time in the car." Her work as a nutrition education coordinator takes her from her Portland home to South Portland and to Westbrook; she averages four to six miles each way.
For some, biking in the warmer months makes sense–but the wind, snow, and ice of Maine winters are a turn-off. Most extended-season cyclers, however, say that winter riding is not all that different from riding to work in other seasons.
"I started commuting by bike in the summer of 2006 after moving back into town from Cape Elizabeth," says Tracie Reed, an architect. "As part of that transition, I had scored a bike from a swap shop. The summertime seemed like a beautiful time to ride. Then when fall approached, it was still beautiful. One thing led to another. One more day became one more week. As it got colder, I kept challenging myself. At some point, I had adapted to it and became a year-round bicycle commuter."
To The Manner Born
Becky Wartell and Seth Levy, two more winter warriors, are natural-born cyclists. Neither has ever owned a car and, so far, that hasn't been a problem. Wartell started biking as a way to get around growing up in Portland. Freelance writer Levy, now in his mid-30s, adopted two-wheeling it as a paperboy in the sixth grade. "It's the only mode of transportation I've ever had," he says. "I've even moved by bike in both Washington, D.C., and Portland."
All four of these extended-season bicycle commuters share similar enthusiasm for  the environment, physical activity,  and affordability. They also offer similar advice to those looking to take up riding in the winter. Levy phrases it in the most simple terms. "In order of importance, your challenges are staying seen, staying safe, staying warm, and staying rolling.
"In the winter here, we have shorter days so there's less daylight. That makes cyclists less visible, but you can mitigate challenge number one by wearing bright reflective colors, having good lighting on your back, up front, and on your helmet."
Wartell concurs, and addresses challenge number two: "Drivers don't expect to see cyclists out when it's cold, so you can't assume they're looking out for you. The bike lanes aren't plowed as diligently as the roads, so the space to ride around cars is smaller–that can get scary." She commutes about five miles each way from South Portland to the Inn by the Sea in Cape Elizabeth, where she works as a massage therapist.
Ice, snow, and slush make it harder for both drivers and cyclists to stop. "I give cars way more latitude to stop, and plan on taking three times more distance for me to stop," notes Levy. "Part of staying safe is being cognizant of road conditions; just because you can ride year round, doesn't mean you have to. If conditions are hazardous, I don't have to prove anything to anyone."
Sometimes that means walking a bike around a bad patch, and sometimes it means ditching two wheels altogether. "Usually if the roads are covered in ice, I won't ride," says Anderson. "Often the main roads are fine, but side roads are icy, so I'll change my route, and I always give myself extra time in case I need to hop on the bus." Every Portland Metro bus has room for two bicycles on the front rack, making public transit a reliable alternative when the going gets tough.
Dress The Part
Most Mainers have the staying warm bit down to a science. With a few additions, just about any winter wardrobe can be easily adjusted for bicycle commuting. Wartell's foremost advice for new winter riders: learn how to layer. Her average winter commute starts out with five layers of warmth on the top half and three on the bottom.
"Wear as many layers you need to keep you warm up top, plus something waterproof and windproof on top," she says. "It's not just the torso that you need to worry about. Gloves and headwear are important, too. And on my legs, I typically have a base layer, then pants and then rain pants over the top."
"The hardest parts to keep warm are your hands," says Anderson. "Gloves are good and I wear mittens when it's really cold to keep my fingers together. When it's really cold, I have a neck gaiter and a headband to protect my forehead. You can get a sensation similar to brain freeze if you don't."
As far as staying upright and rolling, not a single cyclist of the four has ever had a memorable incident on the road in the wintertime. All consider studded tires and fenders optional, but beneficial to ride comfort.
Reed and Anderson recommend that potential winter cycling commuters connect with other people who ride via the Portland Maine Bicycle Commuting Facebook group. Reaching out to a local bike shop for help with getting outfitted is another recommendation across the board.
For those still hesitant to give winter cycling a try, Reed offers some insight. "After five minutes, your core starts to warm up," she says. "If you haven't it done before, it sounds crazy, but with a bike, you don't have to scrape a windshield or wait for the engine to warm up. As soon as I come out, I'm moving. When I drive, I'm cold either from not being dressed for the weather, or from shoveling off my car. And the car only ever seems to get warm inside when I've almost reached my destination."
If getting some extra time outside, saving money, having a legitimate excuse to skip the gym, and helping the environment aren't reason enough to ditch the car this winter, Levy recommends additional incentive to hop on the two-wheeled beast: warming up with hot cocoa and/or bourbon after a long ride.
Comments or questions about this story? Email us now!