December 2015 | view this story as a .pdf
Fireside, Freeport
The Tuscan Brick Oven Bistro is just the place for feasting after a day of shopping.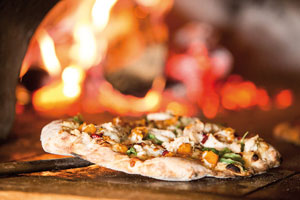 There's comfort food, which many restaurants can boast about serving. And then there's comfort itself which is more rare. Tuscan Bistro in Freeport, a stone's throw from LL Bean, offers both.
Imaginatively lit, the airy, spacious dining room is studded with comfortable sofas and tables with comfy high-back armchairs. The flickering flames of the brick oven, front and center, can be seen from every corner. Its scent alone provides a welcome respite from the chills of the evening outside.
We take a seat at the bar where, until 6 p.m., happy-hour drink prices are 20 percent off. A Makers Mark Manhattan and a Pear Rosemary Martini are each $8.80.
Once seated for dinner, we peruse an affordable wine list from which we select dependable Lesse-Fitch Pinot Noir ($24).
We begin with the most satisfying charcuterie. Ever ($18). The house-made grilled veal and rabbit sausages are superb; over-the-top crispy, braised pork belly is heavenly. But wait! There's also a jelly jar filled with velvety, deep-flavored duck liver mousse with various accoutrements.
Going forward, we're totally enchanted with the exquisite roasted squash and truffle sformatino ($11). Is that a new word for you, too? I still can't pronounce it (nor could our waitress). Anyway, think souffle. This is a savory Italian egg custard dish, ingeniously concocted with roasted local butternut squash, pine nuts, white truffle oil, alfredo sauce, pink peppercorn parmigiana mousse, and balsamico. So stunning in its towering presence we have reservations diving into it. But we do–bellissimo!
The excellent Cornish Game Hen ($24) is moist and flavorful. Perhaps that's attributable to this all-natural, semi-boneless bird being brick-oven roasted. Accompanying roasted local carrots, brussels sprouts, and parsnips are equally successful, as are the parmigiana reggiano mashed potatoes.
We will return for the popular wood-grilled pizza, the braised local rabbit with hand-cut pappardelle ($20), cannoli ($5), made with cinnamon basil ricotta and candied pistachios, or perhaps the Grand Marnier chocolate mousse ($6) with bittersweet chocolate and extra virgin olive oil. 
Tuscan Brick Oven Bistro, 140 Main St,
Freeport. Open daily, 11 a.m-9 p.m., 869-7200
or tuscanbrickovenbistro.com
Comments or questions about this story? Email us now!