Winterguide 2016 | view this story as a .pdf
La Dolce Bayside
Refined Italian classics return to the revitalized downtown end of Washington Avenue.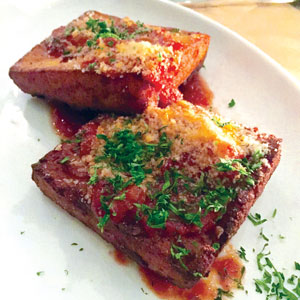 Roustabout, in the heart of Portland's burgeoning East End gentrification, is pretty much at capacity on our arrival on a weeknight at 7 p.m.
Seated, we marvel at the huge former Nissen Bakery–now a modern mix of silver and gold, with soaring white and gray walls, supported by proudly exposed steel I-beams, surmounted by all the things that used to be hidden: air ducts, plumbing, and electrical fixtures.
It's loud and joyful here. We order an Old Fashioned, Frisco Style ($10)–rye, benedictine, and barrel bitters–selected from a cocktail list that runs from the classic Negroni ($9) to the East Bayside cocktail (vodka, fresh herbs, bubbles, $11).
The menu at first seems like a time warp: Caesar salad, spaghetti bolognese, chicken fra diavolo, minestrone, garlic bread. Our server explains that Roustabout's gnocchi is Roman and therefore not what we may be expecting. Sure enough, a pair of four-inch squares of baked semolina (not little potato pillows) arrives, crisped and brushed with marinara and topped with fresh parsley, the culinary find of the night. And at $8, it will be a repeat performance.
Fritto Misto ($13), billed as an appetizer, is a heaping plate full of goodness. Octopus, calamari, mussels, and veggies are fried to golden brown in a light batter and accompanied by smoked-pepper aioli with just the right kick.
We're drawn to Smoked Baby Backs ($20). Falling off the bones, the flavorful meat is infused with a smoky richness that carries over into the accompanying rigatoni.
We'll return for the tiramisu ($10) made with "cold brew and Allen's." Happy hour runs from 4 to 6 p.m. (and 10 to midnight) with $3 beers, $5 cocktails, wines, and endearing surprises such as chicken liver mousse ($4) and house ricotta ($4). 
Roustabout, 59 Washington Ave., Portland Open Tues.-Fri., 11:30 p.m.-12 a.m., Sat.-Sun., 5 p.m.-12 a.m. with brunch 10:30 a.m.-2:30 p.m., 536-4008 or Roustabout.com