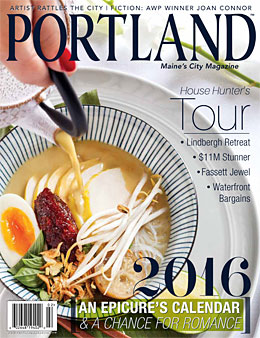 Food&Drink
39 An Epicurean's Guide to Planet Maine
Our New Year brings fresh food trends, new stars, and new restaurants to dream about.
By Claire Z. Cramer
84 Dining Guide
85 Restaurant Review
Roustabout shakes up East Bayside.
Perspectives
8  From the Editor
10 Letters
82 L'Esprit de l'Escalier "Voilà"
By Rhea Côté Robbin
Shelter&Design
Homes For The High Flyers
This Househunters' Special opens with a dazzling portfolio of glamour real-estate listings, including the North Haven Island retreat of Charles and Anne Morrow Lindbergh.
54 Flying Home
Fly like the Lone Eagle–if you dare. $4.3M.
62 Risk Mgmt.
Islesboro Xanadu at auction. Estimate: $10.5 M.
66 The Butterfly Hunter
Rangeley Lake getaway, $1.15M.
By Colin W. Sargent
71 So Low
Why not pick up a tiny miracle? These cottages with million-dollar views all have price tags under $200K.
From Staff & Wire Reports

87 House of the Month
Urban fantasy: The Francis Fassett high Victorian digs at the end of Pine Street in Portland's West End.
By Colin W. Sargent
88 New England Homes & Living
Maine Life
13 Maine Classics
15 Winterguide
20 Experience
27 Chowder

Art&Style
29 Portland After Dark: Sweetheart Deals
Sensual valentine stays for a sexy Valentine's Day.
By Karen Hofreiter
77 Artist at Work: Urbane Rattle
The three worlds of Charlie Hewitt.
Story and photos by Diane Hudson
93 Fiction
"Island Universe"
By Joan Connor

Personalities
96 Flash