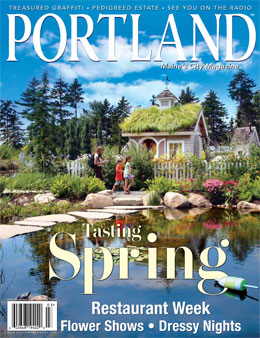 Perspectives
8 From the Editor
10 Letters
23 Warm Weather
Getaways
67 L'Esprit de l'Escalier
"April In Paris in Maine"
By Rhea Côté Robbins
Food&Drink
54 Eat, Drink,
Restaurant Week
Your table awaits.
By Claire Z. Cramer
68 Dining Guide
69 Restaurant Review
The Grill Room takes you near the fire for romance.
Art&Style
38 Grand Illusions
Anita Stewart's star shines brightly at Portland Stage.
By Diane Hudson
53 Highway Signs
Writer Michael C. White's latest novel chases a lost heart.
Interview by Claire Z. Cramer
93 Fiction
"Goat"
By Jason Brown
Shelter&Design
15 2016 Garden & Home Show Guide
78 House of the Month
"Payson Place"
The former Phillips & Marion Payson mansion in Cumberland Foreside.

88 New England Homes & Living
Personalities
45 Radio Heads
Meet some of Portland's incandescent women of the airwaves.
By Olivia Gunn
96 Flash
Maine Life
13 Maine Classics
27 Experience
32 Chowder
35 Portland After Dark: "To The Nines"
Get reacquainted with the dark, fancy depths of your closet. Then hit the town.
By Karen Hofreiter
Maine Health & Wellness
Our 2016 advertising guide flings opens the door to a fresh,
high-energy spring.