February/March 2016
Grilled to Perfection
An Exchange Street retreat to warm your soul.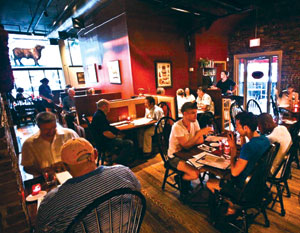 The Grill Room is the hot pink center of chef/owner Harding Lee Smith's "rooms." In the heart of Upper Exchange Street, this somehow intuitively yummy exposed-brick steakhouse & bar pulses with a wood-fired grill and pizza oven. Catching the spirit of the place as we enter, we relax. This happy crowd obviously wouldn't rather be anywhere else.
Starting at the bar, we enjoy our first sips of a Paso Robles zinfandel ($21 carafe) poured by a most amiable bartender.
At our table on the quieter side of a glass divider, the smoky scent and view of meat being grilled over shooting flames tell us we're in for something good. Very decent focaccia and olive oil for dipping have us munching as we eye the menu and gently argue–we both want duck.
An excellent foie gras appetizer ($15) has the wood-grilled liver presented in a cracker-like edible bowl on a bed of local goat cheese dotted with crisped, diced sunchokes and dressed with smoked-tomato coulis. Rich, braised local pork belly ($12) comes with insanely delicious citrus cherry gastrique, and marinated currants.
Tender slices of well marinated, rare hanger steak bask in a fine béarnaise sauce ($26, dinner, $21 a la carte). Fish or meat may be ordered without accompaniments, and assorted sides are available separately–good idea, we agree.
The steak dinner includes the famous sea-salt fries–these are legendary, a veritable mountain of delicious thin-cut fries that no one could ever eat at one sitting! A side of blue cheese vinaigrette ($1) for dipping is nice but not necessary because the chive-enhanced ketchup is stunning.
The duck breast dinner ($39/$23) is absolute magic. The thinly sliced breast has deliciously crisped skin and a perfect pink in the middle of each heavenly bite. Risotto's flavor is enhanced by grilled shiitake and cremini mushrooms and fresh spinach leaves–a creative combination crowned with a grilled foie gras lobe atop the entire presentation.
Crème brûlée makes for a grand and successful finale. The warmth of this visit will stay with us for a long, long time.  
The Grill Room, 84 Exchange St., Portland. Open Mon.-Sat., 11:30 a.m..-2:30 p.m. & 5 p.m.-10 p.m.; Sun. 5-9 p.m. 774-2333 or thegrillroomandbar.com
Comments or questions about this story? Email us now!