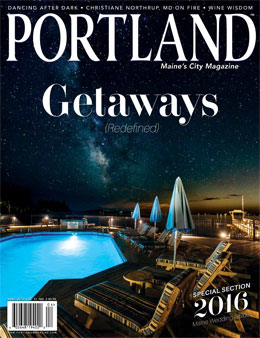 Perspectives
 8 From the Editor
10 Letters
89 L'Esprit de l'Escalier
"Dépaysement"
By Rhea Côté Robbins

Maine Life
12 Maine Classics
15 Experience
20 Chowder
23 Portland After Dark: "Let's Dance" Release the dancers! Dance class as a transition to nights on the town.
By Karen Hofreiter
Personalities
83 Dancing Around the Fire With Christiane Northrup
This goddess has no plans for any of us to age.
Interview by Claire Z. Cramer
104 Flash
Art & Style

38 Maine Wedding Guide
With Maine coast excitement, our 2016 Guide to Wedding Attractions walks you down the aisle in style.
Food & Drink
79 It's Wine O'Clock Here!
Ralph Hersom is a prince of the spirit world.
By Claire Z. Cramer
90 Dining Guide
91 Restaurant Review
Woodford Food & Beverage, unveiled.
101 Fiction
"Sea Change"
By Karen L. Lessard
Shelter & Design
27 Redefining Getaways
Destinations of distinction.
By Claire Z. Cramer
71 Kings Row
Meet a real urban legend.
By William David Barry
75 Two For The Ages
Fort Gorges, meet your twin sister, Fort Sumter.
By Colin W. Sargent
93 House of the Month
A West End town house with plenty of pedigree.
94 New England Homes & Living