Summerguide 2016 | view this post as a .pdf
Sampling the freshest new arrival in the Old Port.

Review by Diane Hudson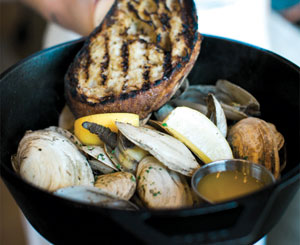 Walking into Scales on a sunny summer evening is a dazzling experience. Light streams across the expansive dining space (with seating for over 150) and bar area from floor-to-ceiling paneled windows, framing a classic working pier. These are not glitzy pleasure boats you see from your table–these are working vessels, responsible for delivering the very morsels you are about to eat.
The wharf's newest arrival is a joint venture between celebrated chef Sam Hayward and his partners, Dana Street and Victor Leon. The trio's other eateries include the highly lauded Fore Street, Street & Co., and Standard Baking. With these credentials, our expectations are high.
Sipping on an aromatic Tom Cat Martini ($12) and robust Geary's Hampshire Ale ($4), we dive into a huge cast-iron pot filled to the brim with the freshest mussels ($12). From Bangs Island, these plump little devils bask in a delightful lemon-dill buttermilk broth, topped with lightly toasted croutons–the perfect appetizer.
Craving a fried dish, we choose to bypass the appealing, well-stocked raw bar. The menu boasts a mouth-watering array of fried fruits de mer: oysters, Maine clams, squid, and traditional fish & chips. Hoping not to spoil our appetite, we order the smaller serving of fried oysters ($16/$24). The chipotle dipping sauce, balanced by a bed of lightly dressed mixed greens, is reason enough to gorge on this dish. If you're looking for a piled-up plate of greasy fried fare, then Scales is not the place for you: think quality over quantity.
With great difficulty, as there is much to desire, I select the rotating  Market Special ($28).  We are not disappointed; arriving at the table in another cast-iron skillet is some of the freshest cod we've ever tasted. The filet, velvety in texture, comes grilled and lightly coated in buttery bread crumbs, accompanied by salty braised kale and a Parker House roll–a dish that is at once nostalgic and innovative. We pair it with another vintage favorite, baked beans. True to our memories, the delectable legumes are lovingly baked overnight, and accompanied with house-made sausage. At $7, it's one heck of a bargain. For $3 extra, don't skip the side of griddled brown bread.
Complete your nostalgic sojourn with Indian Pudding ($8.50) generous enough for sharing, though one of you is likely to want it all!  We end the meal watching the last of the fishing boats tie up, painting reflections in the slightly moving water as the skies grow darker. It's Gatsby hour now in Portland harbor–time to go home, dear. 
Scales, 68 Commercial St, Portland. Mon-Sun., 5.30-10 p.m. www.scalesrestaurant.com 805-0444