July/August 2016 | view this story as a .pdf
With on-deck Jacuzzis, baby-grand pianos, and a fleet of staff, the super yachts visiting Maine this summer are the preserve of the super-rich.
From Staff & Wire Reports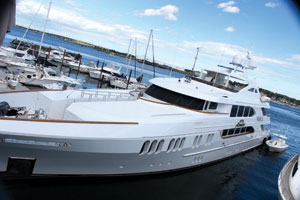 In our seafaring state, it's not unusual to witness exotic ships arriving on Maine's shores, from gargantuan cruise liners to Atlantic Class 40 racing yachts to replica galleons. However, a certain breed of boat never fails to turn heads when it glides into port. Dubbed "gin palaces" in the early 20th century to describe the kind of ostentatious and luxurious pleasure crafts that were appearing in the marinas of the Mediterranean, super yachts have become the ultimate status symbol of wealth and exclusivity. After all, even the most premium hotels require you to mix with the public.
Living in Luxury
DiMillo's Marina is the place to head for a glimpse of how the other half lives. The bill for docking your 150-foot power cruiser in DiMillo's prime waterfront berths for five days can top $3,750, which is really nothing when you consider that the cost of filling your fuel tank is upwards of $60,000. That's before you've even begun to pay your staff or buy champagne the trip. Send your private chef down to Browne Trading Co., a choice destination for your on-board provisions, to pick up a jar of Gold Label Osetra caviar ($1,149 for 250g), accompanied by a bottle of 1999 vintage Cristal ($2,600 a bottle). And be sure you get enough for all 12 guests. "We see a lot of private chefs come in and pick up cases of wine for their clients. They'll pick up $500 bottles of wine for lunch, no problem," says Jasmine, the knowledgeable sales girl behind the counter.
Luxury on loan
DiMillo's Marina recently welcomed the playfully named Aspen Alternative to Portland's waterfront, 164 feet of gleaming aluminium hull and teak decking. The luxury charter comes fully equipped with all the super yacht essentials: on-deck Jacuzzi, gym, kayaks and fishing gear, and a fleet of tenders–all yours for $56,000 a week.  And that's on the cheaper end of the scale. You can take Wheels, pride and joy of NASCAR team owner Rick Hendrick, for a spin for the princely sum of $200,00 per week. Hendrick himself sailed Wheels into Portland last year. Keep your eyes on the horizon for a return visit this summer.
Ultra Yachts
In 2012, the 11th largest yacht in the world cruised along the Portland shipping channel, dwarfing all other pleasure boats in her wake. The Rising Sun, stretching an astounding 454 feet, with room for 16 guests and 45 crew members ready to meet their every whim, cost over $20 million to build. Originally owned by Larry Ellison, CEO of the Oracle Corporation, it was bought by music producer David Geffen in 2010. The founder of Asylum Record and Geffen Records, the magnate (who has an estimated net worth of $6 billion) has signed and mingled with The Eagles, Joni Mitchell, and Bob Dylan. That sounds like one wild boat party. It was even reported that the queen of talk shows, Oprah Winfrey, was a guest aboard The Rising Sun in 2013.
If you prefer speed over size, the comparatively diminutive Diamond super yacht is a featherweight 105 tons of Italian-made, kevlar reinforced hull. Triple 2,600-horsepower and waterjet propulsion enable her to reach an eye-watering 49 knots of acceleration. Despite this, Yachts International describes Diamond as "a family-friendly gem."
Cangarda: Last of Her Kind
Resurrected in 2010 following several years in a watery grave at the bottom of Boston Harbor, six years of restoration, and $12 million dollars in repairs, Cangarda is now the last luxury steamboat in America, and the jewel of Maine's seas.
Built in 1901, Cangarda was named for its owners Charles Canfield and his wife, Belle Gardner. Following an unfortunate indiscretion between Mr. Canfield and an unmarried female guest on her maiden voyage, Cangarda was subsequently sold to the Fulford family of Thousand Islands, New York, where she served as the perfect accessory to their 200,000 square-foot-mansion.
Two future British kings have received the royal treatment aboard Cangarda: Edward VIII, when he was a prince and before he was shipwrecked by Wallis Simpson, and George VI, also as a prince. (vividly portrayed by Colin Firth in the movie The King's Speech.)
During World War II, the yacht became badly damaged while on loan to the Royal Canadian Navy, who eventually returned Cangarda to the Fulfords with a compensatory check for $13,000, a fraction of the amount necessary to restore her. Unwilling to accept the burden of her costs, the Fulford family sold Cangarda in 1952.
During the intervening years, the battered Cangarda bounced between owners, with none able to raise the capital to carry out her  extensive restoration work. In 1999, Cangarda's gutted hull eventually sank to the bottom of Boston Harbor.
Thankfully, tireless efforts by Elizabeth Meyer of J-Class Yacht Management and Captain Steve Cobb to raise the hull and locate a buyer were successful. In 2002, a prominent San Francisco Bay-area venture capitalist bought Cangarda's remains for around $500,000 and shipped them from Massachusetts to Jeff Rutherford's boat yard in Richmond Harbor, California, for a complete restoration.
"It was a very unique project for my yard, for anywhere in the world really," said Jeff. Besides using laser scanning to create a new hull, one of the greatest challenges was integrating modern electronics with antique machinery, requiring the expert help of marine engineer Pete Jordan. "I had to learn all these new skills. That's what made the project so fun. I loved it!" says Jeff.
These days, Cangarda can frequently be seen sailing around Camden and her home port of Islesboro. She made a short stop in Portland in July for repairs. Jeff Rutherford, like a worried parent, came to her aid. "A boat like this will need constant attention," he says. Baby, you're worth it.