July/August 2016 | view this story as a .pdf
The Maine coastline has an irresistible pull during the summer months. Stay there all night long with our guide to drinking, dining, and dancing on the water.
By Karen Hofreiter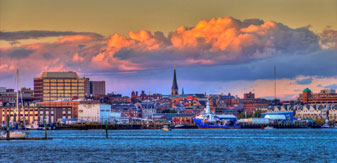 For three months every year Portland's familiar seascape of grey, restless waters meeting moody slate skies takes on a theatrical transformation. Sienna sunsets make their blazing debut before slipping into the cerulean depths, a celebratory curtain call to another summer day. These not-to-be-missed performances–like all good things–are here for a limited time only, so catch them while you can. And the best seats? Out on the water.
Paddling Out
Nothing encompasses summer magic like a Moonlight Paddle or Sunset Sea Kayak tour with Portland Paddle. Tours depart from East End Beach, 370-9730, portlandpaddle.net; Sunset Sea tours daily through September 11 (adults $40); Moonlight Paddle every Friday through August 26 (adults $45). Exact times depend on sunset. Starting from East End beach, tours follow the jagged coast along the Eastern Prom, gliding past the osprey nests by Ocean Gateway, the mouth of the open ocean at Fort Gorges, and the birds diving at Pomroy Rock. Under the star-studded sky with views of the summer constellations Lyra and the Summer Triangle, surprises are always possible along the way. "We've gone out during the Perseid meteor shower and seen dozens of shooting stars lighting up the sky. We've headed out just after [a thunderstorm] and spotted rainbows stretching over the islands. We've started out paddling in fog only to have it suddenly dissipate, revealing a gorgeous sunset and wide-open views of the bay. We often see seals. Sometimes they pop up right beside the boats. On a rare occasion during a new moon, bioluminescence can be seen—sometimes just a sparkle here and there, sometimes so bright that the paddles glow as they're dragged through the water," says Zack Anchor, proprietor. But at the end of a summer's day, "It's the sunset that really steals the show."
At Maine Island Kayak Co. (Peaks Island, 207.766.2373, maineislandkayak.com; tours meet at 5 p.m., adults $60-$65) there's also a kayak Sunset Trip which departs from Peaks Island, meaning you can first enjoy a ferry ride from the mainland and a three-mile head- start into Casco Bay.
Pleasure Boats
If after a long, sweltering day you'd prefer someone else to do the paddling, consider hopping aboard one of the many evening cruises available around Portland. The Sunset Lighthouse Cruise offered by Portland Discovery Tours (Long Wharf, Portland, 774-0808, portlanddiscovery.com; daily through Sept. 5, see website for exact times, adults $26) is quintessential Maine, combining a narrated tour of the iconic marine structures against a dazzling sunset backdrop. Jacob Charette, office manager, describes the tour: "We get up close to Portland Breakwater Light (Bug Light), Spring Point Ledge Light, Portland Head Light, and Ram Island Ledge Light. Occasionally we can get out past Portland Head Light for a glimpse of Two Lights. On a nice, clear day, we can sometimes see Halfway Rock Lighthouse. The guides tell stories and anecdotes. For example, Bug Light is designed after the Greek monument Lysicrates, and its name came about because everyone thought it was 'cute as a bug.'"
For a real treat, book a private evening charter with Fish Portland Maine (pick up in-town Portland by calling 619-1584, fishportlandmaine.com; 2-hour charter for up to 6 people, $150). Sip on your favorite local brew (it's BYOB) while listening to the self-described "historical, anecdotal, and smart aleck commentary" of Capt. Mike Faulkingham. According to the Captain, highlights of the tour include "Fort Gorges, Fort Scammel, and Fort Preble, as well as a craftily  hidden lookout tower built on one of the islands (it's a secret you won't get to know unless you come out on a tour). However, I customize to my passengers' hearts' content. For example, if someone had an uncle who lived on Chebeague Island 60 years ago and they've always wanted to see the island, then we'll do it." Another unique aspect is the opportunity to catch your own dinner. "I always have a rod on board the boat for catching mackerel, so dropping a line is offered on every trip."
Instead of hitting happy hour like a landlubber, how about sipping wine while riding with the wind? Maine Sailing Adventures (Maine State Pier, Portland, 749-9169, mainesailingadventures.net), in conjunction with Wine Wise, offers a Wine Sail    aboard classic schooner Frances (Saturdays and Sundays, 6-8 p.m., for reservations call 619-4630, winewiseevents.com) with a tasting led by expert sommelier Erica Archer. Even the skipper is a fan of this classy booze cruise. "I personally love it when she hosts the sparkling wines paired with the oysters!" says Captain Megan Jones.
Maine Sailing Adventures also offers a soulful, mellow evening with their Acoustic Sunset Sail (Acoustic Sunset Sail, 6-8 p.m., adult $42, see events calendar for exact dates and reservation information). "It's a unique thing we have going down on the Portland waterfront," says Captain Jones. "It's not your typical tour boat at all. I bet that's why half, if not more, of the guests we have onboard are Portlanders themselves."
Looking for an alternative to dinner and a movie? Why not dinner and a voyage? Casco Bay Lines (56 Commercial Street, Portland, 774-7871, cascobaylines.com) in conjunction with Maria's restaurant, presents an evening of Italian food and Sinatra tunes at Cruisin' with the Crooner's and Friends (Aug. 24, 6-9 p.m., $59.99, tickets 207-233-9232). Casco Bay Lines also offers regular high-energy music cruises.