July/August 2016 | view this story as a .pdf
A schooner is reborn as a floating bar & trendy bistro.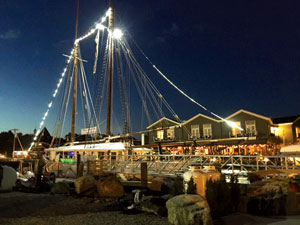 When you cross the Kennebunk River bridge, look beyond the Clam Shack and down to the waterfront. You'll spy The Spirit of Massachusetts made fast to her dock, her tall masts lit to surprise the night sky.
We're dining onboard the schooner tonight, so step lively.
Dwight Raymond's dream to launch this vessel as The Spirit restaurant has been fully realized. Treasured as the last vessel ever built at Charlestown Naval Shipyard (in 1984), she's plied the seas from the Caribbean to Africa and Canada, a reported half-million miles before she came to be cradled in her new berth.
Piped aboard, we were seated beside the ship's wheel, where we could see all the attractions reflected in the river: Arundel Wharf Restaurant, Davids K'port, Federal Jacks. There used to be a celebrated restaurant called Windows on the Water on this river. This is water on the windows.
Time for champagne! (Though our animated and helpful server has never been briefed that Veuve Cliquot is in honor of the Widow Cliquot, 1777-1866, the visionary who launched a champagne empire that's well into its second century. Everybody has to learn the ropes.) We were glad to see one of our favorites was included on this very accessible wine list.
The menu adventurously mixes the global and local, conjuring the schooner's world travel. The plates are made "from fallen palm leaves, from India." We start with the tasty tomato and watermelon salad (heirloom tomatoes, watermelon, goat cheese, mint, and ginger vinaigrette, $6) and Caesar salad (sublime white anchovies, $9), then tear into the small-plate sized Mackerel Crostini (a special tonight, featuring smoked mackerel), Cured Meat Plate (ham, salami, sausages, $16) and Pan Seared Scallops (warm spinach salad with bacon vinaigrette, $12). A nice touch is an ear of corn on the cob, $4, to remind us of life in the rough. And, of course, king lobster, several ways.
The Floating Opera
The 125-foot Spirit of Massachusetts is not looking back at her earlier life as a global ambassador for her namesake state. This lady is a bit mysterious (multiple phone calls went unanswered or unreturned before we just decided to show up and were glad we did) early in her new identity as a restaurant. But if you hit the ramp at the right time, the bar glows and the boat is gorgeous–a trip around the world without ever leaving the dock.
Our server's parting shot: "Are you going to have some fun or are you going home?" Our reply: "We didn't know that was mutually exclusive!"
This is one yare party. (Yar being the second spelling, Admiral.) 
The Spirit, 4 Western Ave. Kennebunk, ME. Daily, 11am-10pm. No reservations, but your table is now ready in the newly opened dining room (below).